West Ham United are delighted to announce that highly-rated defender Ben Johnson has put pen to paper on his first professional contract which will keep at the Club until 2020.
The full-back, who turned 18-years-old on Wednesday, has enjoyed a superb campaign so far this season, breaking into and becoming a regular for the Hammers' U23 side.
The youngster also got his first taste of senior team action at the end of last year when he travelled and was named on the substitutes' bench for the fixture at Manchester City in December.
Johnson has already trained with David Moyes' first team squad on a number of occasions and, having secured his long-term future with the Club, is looking forward for more opportunities in the coming years.
He said: "I'm very delighted to sign. It's been a long time coming, but I've worked hard and I feel it's fully deserved. I'm feeling good.
"I've always dreamt of being a footballer. I think I just wanted to put my head down and enjoy my football – take it season by season, which I am doing, and I think I've reaped the rewards this season especially.
"Towards the end of last season, I had an injury and I was out for quite a long time. I felt I just needed to come back with a bang and I just did – came back, worked hard, put my head down fully focused and just had a good season. I need to kick on now."
Johnson – who spent much of his youth playing as an attacking midfielder or winger – has been coverted to full-back over the last 12 months, something he thinks has helped him kick-on when making the step up to the U23s.
And the youngster, who has now been at the Club for ten years, also believes the right-back spot has given him the opportunity to impress the first team manager.
"I play at right back at the moment and I think I get up and down and get crosses in," he explained. "I think I need to improve my defending but I think overall I'm reliable on the pitch and that's what you need in the team.
I've always dreamt of being a footballer. This season, I just wanted to put my head down and enjoy my football – which I am doing

Ben Johnson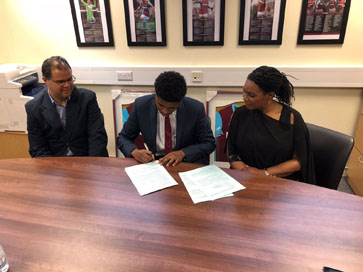 "Last season I spoke to [Alvaro] Arbeloa who's gone now, and this year I've spoken to [Pablo] Zabaleta and Sam [Byram] as well. They're all nice, great people and I think they will help me and if I'm good enough I will be in the team.
"Hopefully so it's good experience learning from someone who's won multiple titles and someone who's come through and played at the different levels – that's what I want to aspire to be.
"I have to credit Mark [Phillips] and Steve [Potts, the U18s coaches] for sticking me at right-back, and I've kicked-on there. It's helped me get to where I am right now."
There were many fans wondering 'Johnson who?' when his name was announced on the bench for the Manchester City match, and the defender admitted it was as much of a shock to him as anyone.
"I think it all went so quick!" he laughed. "I was just training with them on the Saturday and then they just told me to wait a bit and then I'm travelling.
"So I didn't have much time – I had all my stuff just in case – but it hadn't really sunk in. I think it's only just sunk in a few days ago that I was on the bench and I could go and play for West Ham one day hopefully.
"It was nerve-wracking but when I got there I thought, it's my job, so I just need to focus and this is where I want to be so be it really. Just keep improving myself to get to that point and hopefully get more minutes and get on the pitch."
Johnson has been out with an injury of late, but is set to make his return within the next fortnight as the Hammers' U23s look to secure a top half finish in their first season at Premier League 2 Division 1 level.
Terry Westley's men face Swansea City on Monday night before hosting Sunderland a week later.