West Ham United captain Mark Noble took inspiration from brave young Hammers fan Isla Caton at Saturday's 1-1 draw with AFC Bournemouth.
Three-year-old Isla, who is battling Neuroblastoma, was the Club's very special guest at the game and led the team out as mascot before the action got underway.
She is currently undergoing an intense 15-month course of chemotherapy and radiotherapy at Great Ormond Street Hospital to fight the disease – the same one which tragically took the life of young Sunderland fan Bradley Lowery last year.
Her family are attempting to raise £190,000 for Isla to undergo specialist treatment in the United States and, as Noble explained, the Hammers were only too happy to help out.
"We're in a fortunate position where we can try to help people," he explained. "In cases like Isla's where we can pull together and get the little girl some treatment – it would be wrong if we didn't try to do that.
"I'm really happy that the people of West Ham came together on Saturday, made it a special day for the little girl and also helped out the family."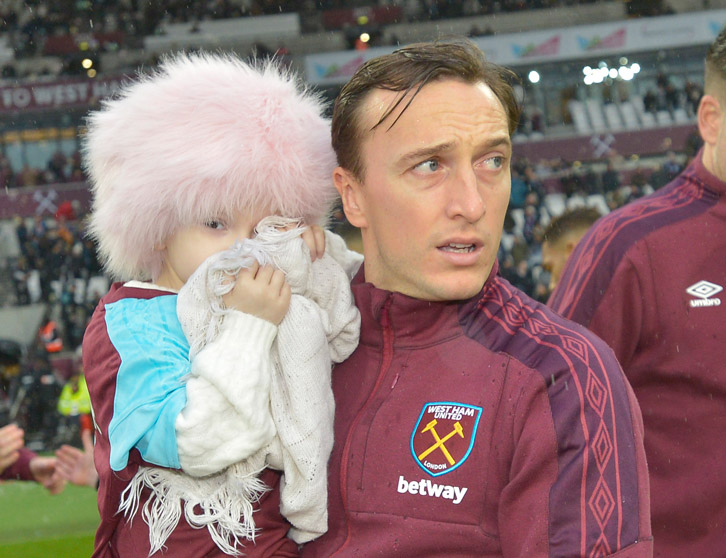 Isla, with her parents Nicola Caton and Michael Hook, enjoyed Saturday's match alongside Bradley Lowery's mother Gemma and the whole family were overwhelmed by the support they received.
Nicola explained: "Isla became unwell last January. She was rolling around crying, rubbing her legs, she was in so much pain. We went for an ultrasound and it was discovered she had Neuroblastoma.
"There's a vaccine in America, it's only a phase one vaccine so it's not available here, but we've spoken to a few families who have had it and, please God, their children seem to be doing really well.
"Football fans throughout the country have done so much for us and we are so grateful to each and every person. That's why Isla had 'cancer has no colours' on her shirt. We are grateful to everyone and West Ham are like our family so we want to say thank you so much."
Isla's father Michael Hook added: "We contacted the Bradley Lowery family pretty much from the start. They agreed to take Isla on board, and we are so happy we went with them. The fit was perfect, they are so nice, so down to earth and they are a football family as well, so there was a connection there.
"We have stood there with Isla and the only thing we know how to do is fight. And we will fight all the way. We will fight every step of the way to get her the money and I'm determined to get her to America.
"People have been amazing. You get people, strangers, contacting you every week offering to do something for Isla. It makes you have faith in humanity.
Isla's fundraising campaign has been backed by the Bradley Lowery Foundation, the charity which was set up in memory of the gallant six-year-old who died last year after forging a close bond with Bournemouth's former Sunderland and West Ham striker Jermain Defoe, to fund treatment for youngsters suffering from the same disease which took his life, as part of their #CancerHasNoColours awareness-raising initiative.
You can make a donation to #TEAMISLA via a bucket collection outside the Stadium Store at London Stadium, texting the dedicated SMS donation service ISLA14 £1 (or another amount) to 70070, or online at www.justgiving.com/campaigns/charity/thebradleyloweryfoundation/islacaton
For more information about Isla's fight, and those of other courageous youngsters battling Neuroblastoma, visit bradleyloweryfoundation.com