A new but familiar figure has taken his seat in the West Ham United dugout in recent weeks.
Eight-and-a-half years after leaving the Hammers in his previous spell, Nick Davies is back on the east Londoners' training pitch as Head of Fitness.
Davies is relishing being back at the Club under manager David Moyes, and has got stuck straight into the role as the Hammers look to climb the Premier League table. 
"It's a multi-faceted role," he explained. "Ultimately, the preparation of the players for training and matches is a key ingredient in that.
"From pre-activation work to warm-ups to individual conditioning to their recovery strategies and the nutritional side of it, it's a never-ending spectrum of work which underpins the physical performance of the players.
"That's something which we're striving to continue to improve, which all clubs are doing all the time, and we feel like the sports science impact can really have a big effect in ensuring the players are as prepared as they can possibly be."
Much is made of the intensity of the Premier League and, depending on which pundit you listen to or website you read, how it is the 'best', 'most physical' and 'fastest' league in the world.
Regardless of whether those claims are true or not, Davies says the English game has changed hugely since he first began working in the top flight more than a decade ago.
"It is true to say the physical outputs which these players are producing now have changed over the last ten years and certainly the sprint and high intensity work they do in games now is higher than it was then.
"It has really increased and you only have to look at players' body shapes now to see that. They are explosive, dynamic, sprinter types. There are not too many players who plod around the pitch any longer!
"Footballers are athletes and we're always trying to push the boundaries and raise the bar as to what we can get out of these guys so they are as well prepared on matchdays as they can possibly be."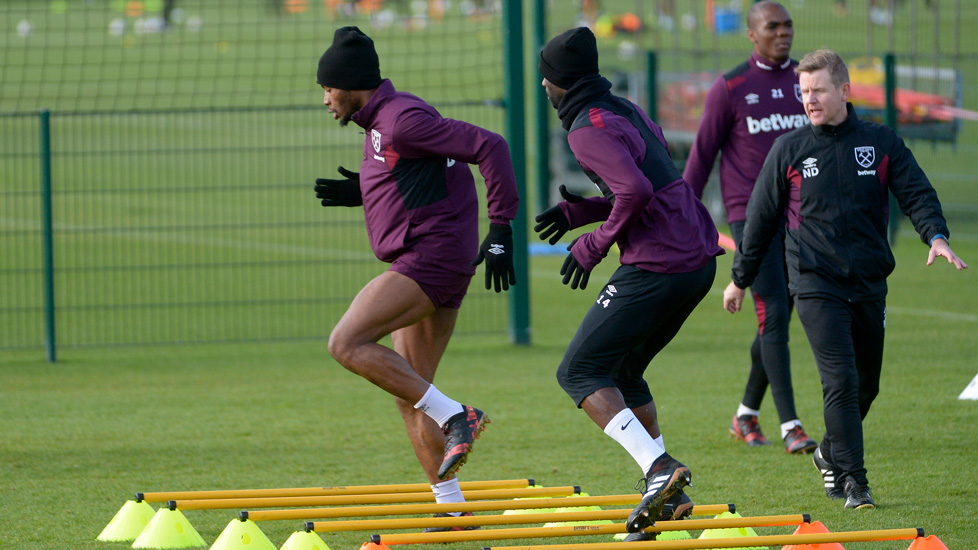 Despite the increase in intensity, players still come in all shapes and sizes, with a James Collins needing a different fitness plan to a Manuel Lanzini, for example.
Davies says the challenge for him is to work out how to maximise the physical output of each and every player, regardless of their makeup.
"The shapes and position that they play in means tailored programmes are required, which is why everyone gets their individual plan as well as their core quality work which they all must do.
"Certainly, the individualised stuff is becoming more and more apparent in the planning of the players' training weeks."
Manager Moyes has repeatedly stated his demand for players to run if they want to be part of his team in the future.
Davies has found the squad have responded well to this demand and are putting in the hard yards at Rush Green with a view to being involved on matchdays.
"The work they have done with the coaching staff puts high demands on players and there is a high expectancy over what they want from them.
"Certainly, the reaction I have seen has been overwhelmingly positive and, ultimately, professional people want to work hard, they want to be pushed and they want to develop.
"The manager's ethos means there is no hiding place and they have to step up to the mark if they want to be part of his plans. That's a nice, straightforward way to work."