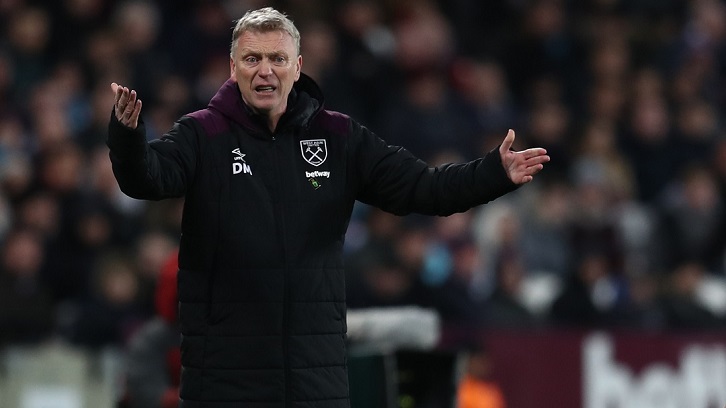 David Moyes discussed his hopes for the closing weeks of the January transfer window, winning the respect of the West Ham United supporters and Chicharito's future with the daily newspaper journalists after Saturday's 1-1 Premier League draw with AFC Bournemouth.
The manager said he would like to strengthen his squad, admitting the Hammers are short of bodies in some areas, but will not make any signings without being 100 per cent sure of their quality.
Moyes also compared the pressure to perform at West Ham to his first club Celtic, before spending a few minutes answering questions about his Mexican goalscorer. He is what he had to say…
Will you look to do business over the closing ten days of the transfer window?
"I don't want it to be a lucky dip or just taking anything for the sake of it. Look, we're short, but more importantly I would like to get the players at the Club back fit, as they will be the ones who know the Club better and know what is required.
"If we can pick something up in the next week or two who we really, really want then we will try and do so.
"We are definitely short and even if you looked at the number of players we have, we're probably down two in terms of squad numbers, but sometimes that works because it means you get a chance to introduce your young players onto the bench and some of them get through. Sometimes that allows young players to get a chance."
You are unbeaten in seven matches and have lost just one in nine in the Premier League, so do you feel you have won over any remaining sceptical West Ham fans?
"I think to earn the West Ham supporters' respect is a big thing, because they are tough support and a lot of the media are West Ham supporters also.
"It reminds me a bit of Glasgow. It's tough if you play for the Old Firm, which I did. You live in the city and it's a tough city, as people expect something from you and they can see through it if you're not going to do it right.
"I've tried to say from the start 'I'll get the boys working as hard as I can', then I hope the West Ham supporters can see that. Then we could work on their deficiencies and we're starting to do that.
"At the moment, I think the fans are probably saying 'The effort the players are putting in, we've seen that', but I want us to get better and our play to be better all-round, but I can't change that in two months, although I can ask them to play better.
"The power we've got is our threat up front at the moment. We've probably got the best forward on form, as good as anybody at the moment, in Marko [Arnautovic]. His form has been so good that the more we get it up to him quickly the better, so that's what we've been doing."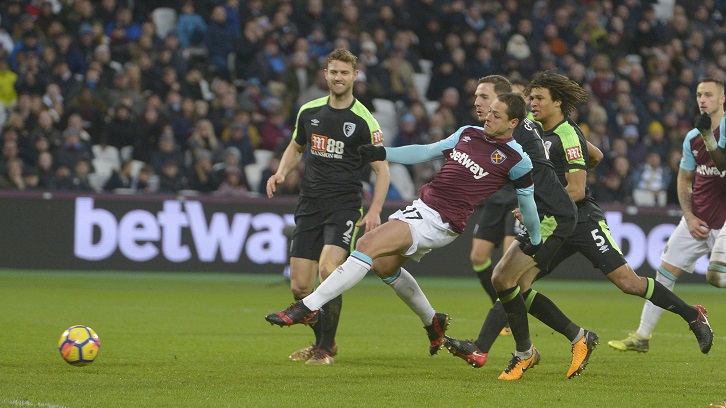 Chicharito scored and played well after coming on as a substitute on Saturday. He has not started many Premier League games recently, but can he expect more chances after that performance?
"I keep saying this all the time to players, that sometimes they think they're not in, then they'll be in and it's up to them to take their chances when they get them.
"Chicharito has played some games for us and he came on on Saturday and made a difference. Chicharito can do that. You can't question the club's he has played for, as you don't play for Man United, Real Madrid and Bayer Leverkusen if you're not a good player."
Is he more of a penalty box player than the Club's other forwards Marko Arnautovic, Andy Carroll, Diafra Sakho or Andre Ayew?
"Chicharito is a really good player and, if we can get him the right service and the right type of ball in the box and he gets a little bit of confidence [he will score goals].
"He's looking a bit fitter, too. He was out for six weeks with a hamstring injury. He was out when I got the job with a hamstring injury suffered on injury duty with Mexico and he was missing for nearly six weeks, so he was just missing a bit of where we were with the players in the early weeks. I've got to say 'Great', because I hope he comes up.
"If we can get him good enough service, he can be a penalty box player, but what you've seen at the moment is that we've had to become harder to beat and play more on the counter attack and that might not suit him as much as balls being whisked across the box. One which Sam Byram stuck in late on was one where you expected Chicharito to pop up somewhere."
Will Chicharito definitely stay with the Club this month?
"Will he definitely stay? I'd like to think so, yeah. It would need to take something… If you asked 'Would Paul Pogba definitely stay with Man United?', if Real Madrid came in with £500 million, then he probably wouldn't, so money would always be the talker. At the moment, no-one has made an offer, as far as I know anyway."