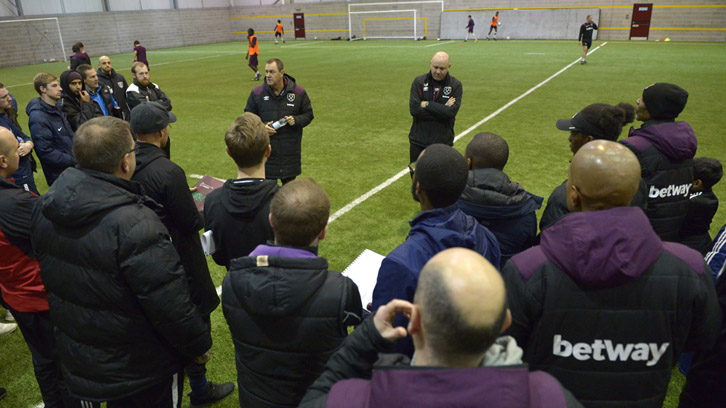 Monday marked the first of West Ham United's Official Coaching Association sessions as local coaches from across grassroots football gathered at Chadwell Heath for the masterclass.
The evening, led by Academy Manager Terry Westley, was attended by more than 60 coaches – who gained a professional insight into youth football – from the local community.
Westley led the introduction at the Hammers' famous and historic Chadwell Heath base, before former Irons defenders Matthew Upson and Paul Konchesky – both of whom are mentors for Academy players at the Club – held a question and answer session.
Those present were then invited to watch the U12-U14s training inside the sports dome to see the workings of a practical session. Steve Potts and Jack Collison – another pair of ex-Hammers and current youth coaches – headed the exercises as the Coaching Association members looked on with interest from the sidelines.
Mark Phillips, joint-manager of the U18s alongside Potts, then rounded off the evening with a debrief and invited attendees to return for the Association's next date in February.
Westley labelled the opening Coaching Association night a huge success and looked ahead with excitement to future events in east London.
He said: "It was a great turnout from all the grassroots coaches on Monday, and it just shows what a fantastic opportunity there is to join in with the coaching of a professional Club.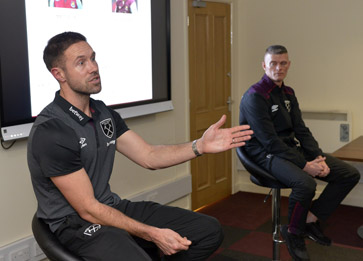 "It was a huge success and it shows that there is something in it for all of us. The idea for us was to bring the fraternity of coaches from grassroots football together with the professional game, and that's exactly what we did.
"It kicked-off with a great question and answer with Matthew and Paul and then we headed into the dome for the session with the U18 staff – Mark and Steve – along with the goalkeeping coaches Billy Lepine and Jerome John. Liam Manning also headed that up and took the players through their paces.
"I think you could see, from all the questions members were asking and the engagement they were showing in the session, that it was useful evening for them all and we're already looking forward to the next one."
Coaches at the evening ranged from across east London and Essex to even further afield, and questions asked and directed at Westley, Upson, Konchesky and more were wide-ranging.
You could see from the questions the members were asking and the engagement they were showing that it was a useful evening

Terry Westley
From what to in a situation when training is for more than 40 children, to dealing with varying standards of young players, the West Ham staff had their brains racked throughout the night.
"There was a real engagement from the attendees in terms of 'What would you do in this scenario?' and 'What do you do when some players are great and others aren't so great?'," continued Westley.
"They were all the general questions you might expect coaches at this level to ask, and the problems you expect them to be facing.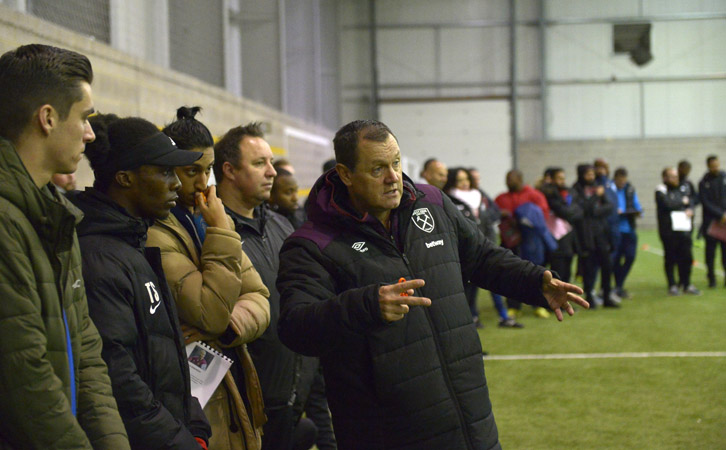 "We're trying to put on some sessions that enable them to go back to their clubs and think about what they may have seen from us and what we have hopefully helped them with and improve the quality of coaching at their own sessions.
"We're all here to learn and try and improve in so many different areas and if we can improve the quality of coaching in the local area, that is massive for us. Obviously if they have a player in their team who is outstanding, then that's of interest and it brings the community of grassroots closer to the professional game, that can all only be a positive.
"If they have an outstanding team at U10s, for example, they can come here with another team on a week night, get some great coaching which we can help with and at the same time we can look at those quality players.
"I think the whole Association has got benefits for everybody, right across the game, and this is the start of the first four sessions this season."
This campaign, there are three more Official Coaching Association sessions that coaches can book onto; on Tuesday 13 February, Monday 5 March and Monday 9 April.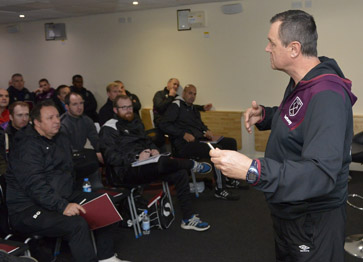 More are likely to follow into 2018/19, but first, Westley outlined what those interested can expect from the remaining masterclasses.
"We're going to bring Jack Collison and Steve Potts into the next session, to get their own stories about the culture of West Ham and the journeys both players went on in their time here," he explained.
"They were both here as young players but a lot has changed – how the facilities have changed, how the coaching has developed.
"We'd also like to bring in people from the FA, from Dan Ashworth's team, from the national game. Then, to invite foreign coaches in would be a great insight for us all, and that's another thing we are looking to do.
"Finally, we'd like to bring in our own senior staff. David Moyes and his staff; Alan Irvine, Stuart Pearce, Billy McKinlay and Chris Woods; will hopefully get involved.
"Again, that will be of great value. We want to really open it up to all the grassroots coaches across the community.
"On Monday, the coaches received a Coaching Association booklet which will hopefully explain everything that we have done so far and in addition, the question and answer with Matt and Paul will have also helped them.
"They are two players who have played over 1,000 games between them at the very highest level and that insight is valuable.
"We're looking forward to the next session now, and I'd encourage any coaches who considered coming to the first but didn't to get their name down to do so quickly, because we will soon be reaching our number limit!"
To book your place on the next Official Coaching Association evening, visit https://www.eticketing.co.uk/whufc, head to 'find tickets' and look for the Coaching Association.