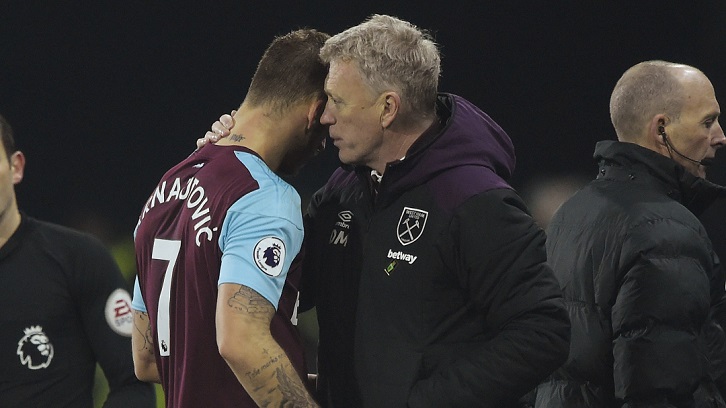 David Moyes says there is even more to come from Marko Arnautovic.
The West Ham United manager has given the Austrian attacker a new lease of life by playing him in a central attacking role, and the No7 has responded with six goals and three assists in his last seven Premier League appearances.
But, while Arnautovic is fast becoming a favourite among members of the Claret and Blue Army, Moyes has warned the forward not to rest on his laurels, but rather strive for an even greater level of potency and consistency.
"Everybody knows he looks, at times, a moody boy, but I've actually found him really good. I've actually found him quite funny, but we're keeping him on a short leash!" the manager smiled, following Arnautovic's one-goal, two-assist show in Saturday's 4-1 win at Huddersfield Town.
"He's not as challenging as it gets, because he is actually someone who knows the right things and I've got to say he's been really good since we've been in. He's trained well, he's tried to improve and everything we've asked him to do, he's come up to it.
"More important, he's shown everyone that where the question was, that he wasn't running about or putting in any effort, that would be the last thing you'd say about him now. What we're not going to do is allow him to go back to where he was, to go back to that any more. That's the challenge for him."
"Now, we're saying that we're keeping it up. You have to remember he missed the Tottenham game with an injury and he didn't play against Shrewsbury, so we got him back fresh, but I'm still working to get him through 90 minutes at that level, at that speed.
"He's doing maybe 70 minutes in games and I'm saying 'I need more from you', but maybe I can't get that all into him straight away. What he is giving us is a great level of speed and energy in the early part of the game."
Marko's a big man to get the ball off as well, he's got speed, he's got power, so we're trying to give him the ball as often as we can

David Moyes
Arnautovic's rise to prominence has coincided with Moyes deploying him in a central attacking position, where he has dovetailed superbly alongside the likes of Manuel Lanzini and Andy Carroll in recent weeks.
Moyes says it is no coincidence that the No7 has revelling his new role.
"When you play out wide, you might not get enough of the ball, so I actually think that we've given him a chance to get on the ball, to get more of the ball.
"He's a big man to get the ball off as well, he's got speed, he's got power, so we're trying to give him the ball as often as we can.
"When you've got Manu around him as well, who would usually make passes to get him in, we've got other ways as well. We've got other forwards, if we can give them the service, who can play alongside him as well.
"We gave him the chance to show West Ham supporters 'I can run, I will run and I'm not maybe what you think, and I'm going to prove to you that I'm a really good player and I'm worth every penny that the Club have paid for me'."
Despite a run of one defeat in eight that has seen the Hammers rise to eleventh in the table, Moyes says the Board are well aware that the Club need to add quality this month to ensure they do not slip back down the standings.
"I actually think the owners are well aware of us needing to add to the squad. We're short in certain areas.
"They are football people, they certainly want us to get away from the bottom of the league and so do I, so the results against Huddersfield and Stoke have shown we can get higher up the table."