David Moyes has praised the attitude of his players and backroom staff alike after making an encouraging start to life as West Ham United manager.
The Scot passed two months in charge having chalked up impressive Premier League victories over Chelsea, Stoke City and West Bromwich Albion, as well as creditable draws with Arsenal, Tottenham Hotspur, Leicester City and AFC Bournemouth.
Reflecting on his time the helm, Moyes told West Ham TV his squad had responded well to his demanding methods.
We've had big thrills with some of the results we've had, but we know that we need to make massive progress on loads of other things

David Moyes
"I think there has been progress in terms of what the team looked like," he began. "Slaven [Bilic] is a good friend of mine and I would never be critical of anything that went on before.
"The players wanted a bit of direction and leadership and I think we've tried to give them that.
"As well as that, we've said 'Here are the ground rules boys. If you don't want to stick to the ground rules, we'd rather not have you, so just go away. But if you do though and you work at it, we'll include everybody and we'll try to give you an opportunity'.
"And, to be fair, everybody has done it. They've all mucked in. We've had big thrills with some of the results we've had, but we know that we need to make massive progress on loads of other things."
Watch Part One of David Moyes' West Ham TV special here
It is all well and good asking players to run harder and further, of course, but that alone will not be enough to stifle a Premier League attack.
So, just how have Moyes and his staff made West Ham a more difficult team to break down?
"We've done a lot of work. We've worked with the back four and back five. In the opening games I had, we had a couple that could go either way and then some really tough games, and it's the really tough games where we've been well-organised, disciplined and hard to play against.
"It's been in some of the other games where we've had a bigger struggle, so that's the bit we need to improve on.
"We've got a little bit of a model which we use against the better teams to try and make sure that we don't lose, but ultimately we've got to find a better model so we can win the games we should be winning with much more ease or more often."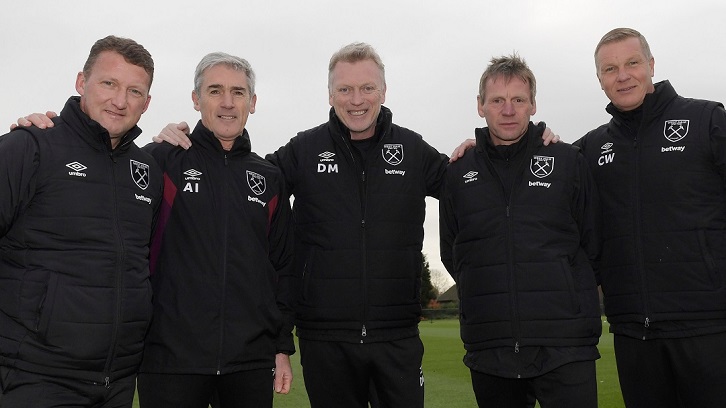 Key to finding that 'better model' will be Moyes' backroom staff, comprising assistants Alan Irvine, Stuart Pearce and Billy McKinlay and goalkeeper coach Chris Woods.
And the manager revealed he could further expand his team, should things continue to go well in the future.
"I actually think that when I was offered the chance to come to the club, I wanted to come mob-handed with a staff, because I don't want to miss a trick here. I don't want anything to go on that I don't know about. I want everything covered.
"I think you do need the staff. We work really long hours as it is, but what you've got is they literally all offer me something different, which is great.
"Alan Irvine is like a professor with it. He is so detailed, he spends hours and hours on it, he's a brilliant coach and a very knowledgeable coach, so he gives me that.
"Stuart Pearce gives me great motivation and leadership and is somebody who you should look up to, somebody who plays every game. He is full of it before every game and is great with the players and is actually very good with the young players as well, spending time with them.
"Billy McKinlay is a bit more light-hearted, but he was a very good midfield player and he has a really good eye for a player as well. He's good at looking at players and spotting things. He is somebody who worked with me just recently and I think he has got better and he is improving all the time.
"Chris Woods is one of the best goalkeeper coaches there is and has been for a long time.
"So, I've got a good team around me and maybe in time we'll add and keep the staff growing to make sure we give them all the best people."