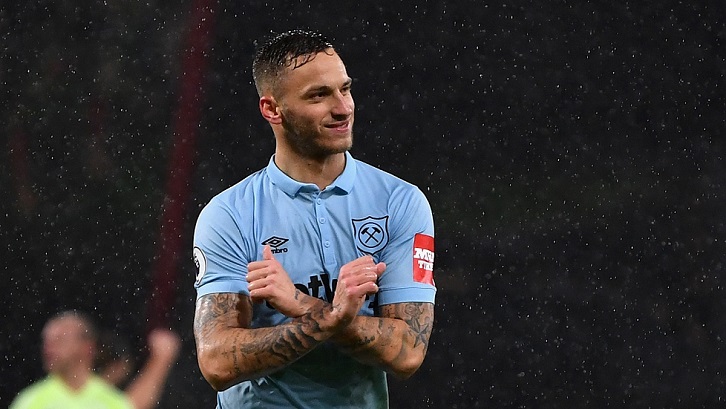 Premier League defenders should be afraid. Very afraid.
Fresh from his best month in English football, Marko Arnautovic says there is more to come as he prepares to make his return to action at Huddersfield Town.
The 28-year-old had challenging start to his career in Claret and Blue, which included a red card in just his second appearance at Southampton in August, which ruled him out of the home win over Huddersfield at London Stadium.
However, the Austrian bagged five goals and added an assist as West Ham United scored two valuable victories and two draws in December, earning him a nomination for the Premier League Player of the Month award.
And, after missing the 1-1 draw at Tottenham Hotspur and goalless Emirates FA Cup third-round stalemate at Shrewsbury Town, the No7 is targeting a successful comeback at John Smith's Stadium.
I am 28 and still not where I want to be. I am trying hard to get there and I won't stop

Marko Arnautovic
"I heard the people saying 'He came for £27 million and he's done nothing for us'," Arnautovic said, reflecting on that difficult start. "Well, people come to me and tell me, or I read some things, but I am not the type of guy who goes to check every column on Facebook or Instagram.
"Of course, if you score or assist and win the game, you are the best player in the world, but if you lose you are the worst player on the planet!
"The fans to pay to come to the stadium to see your performance and of course I want to show the Club that they didn't pay so much money for nothing.
"I would change many things from when I was young but I am also happy and grateful that I am here. I am not finished. Things outside football have stopped me and I didn't concentrate or focus back then.
"I am 28 and still not where I want to be. I am trying hard to get there and I won't stop.
"I want to show people — especially the haters — what I am capable of and bring this Club up with everything I have got."
West Ham will seek to extend their recent run of form to one defeat in eight Premier League matches when they head to West Yorkshire this weekend.
Victory would life the Hammers above the Terriers and, if results elsewhere fall their way, possibly as high as tenth in the table.