Club
Upson: Developing local coaches is so important
West Ham United's Official Coaching Association is set to kick-off on Monday and former Hammer Matt Upson believes the scheme will help develop coaches in the local community, something he believes is of paramount importance.
The ex-West Ham skipper, who alongside Paul Konchesky will be attending a Question and Answer session at the first session on Monday 15 January, is honing his own coaching skills at the Club's famed Academy of Football.
The former England international is regularly seen mentoring young players at Chadwell Heath, and the same can be said for Konchesky, who played for the Club between 2005 and 2007.
The pair will be keen to share their experience on Monday evening and Upson believes it can go a long way in helping progress the local talent.
He said: "I think it's really important to develop the local coaching community, it's so vital to have a good quality standard of coaching.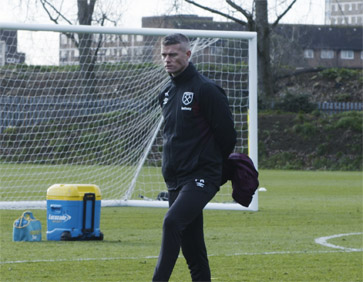 "There is so much talent around, so much is unrecognised, or goes under the radar or is missed but it's great for us to get some coaches in, spread the knowledge around and make the community and the local area as strong as it can be.
"Having members of staff around who understand the club can only be a positive thing. That doesn't necessarily make us good coaches or the best, but you bring some experience.
"Getting the opportunity to coach and be on the pitch doing so is only going to help me. I need that experience and hopefully I can pass it on [at the Coaching Association event]."
The duo have both been coming into the Club's Academy base since the start of the season to help the youngsters, but it's off the training pitch Upson believes he can have the greatest impact on the lads.
"I think the main thing we can offer is life advice for the players," he continued. "They already have really good coaching available to them, and good technical work that they've had since they were very young.
"Some have come through the Academy since they were six or seven years old, so they're all capable and physically good but the biggest thing we can pass on is with the advice off the pitch."
Konchesky added: "They are getting really good coaching so as long as they can take that on, we can help with the rest of it such as the off the pitch stuff."
The first Official Coaching Association session takes place on Monday 15 January and you can secure your spot here. Alternatively, book onto all four sessions – which run from January through to April – by clicking here.