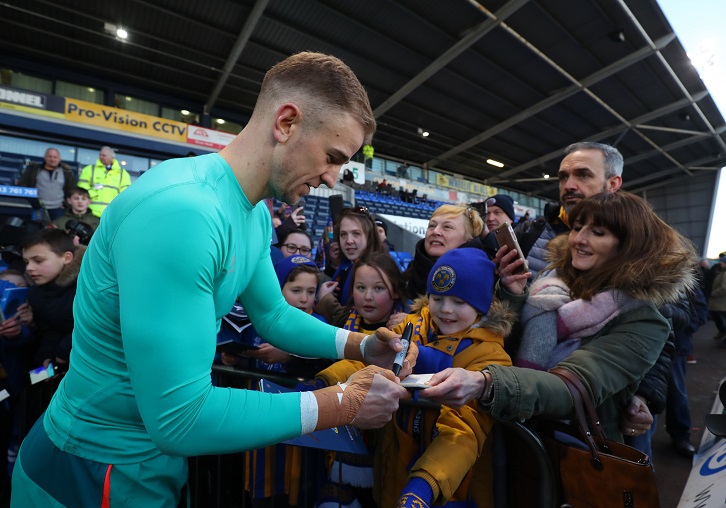 Joe Hart says West Ham United will need to do their homework ahead of their Emirates FA Cup third-round replay examination by Shrewsbury Town.
The goalkeeper earned the Hammers a second chance to beat his hometown team with a pair of fine first-half saves at Montgomery Waters Meadow on Sunday.
The Shrews will now head to London Stadium on Tuesday 16 January, and Hart knows the home side will need to be at their best to overcome opposition who have tasted defeat just five times in 33 matches this season.
"They've got a lot of energy, are very hard to break down and don't concede," said Hart, when asked to assess his former club's performance in Sunday's goalless draw. "We watched videos and they're very well-drilled and a well-organised team and that showed on Sunday in front of some good home support.
"The replay is going to be a different game, though. It's on a Tuesday night at our stadium and they'll have played on the Saturday, the same as us. Hopefully we will have a few more players fit, as we were missing a lot of players on Sunday. We will see what happens.
"It's something for the Shrewsbury boys to look forward to, coming down from here, and we've got to be ready for it. The best homework we can do is watch the original tie and see in all areas how we can improve."
The replay is going to be a different game. It's on a Tuesday night at our stadium

Joe Hart
Hart was afforded star status on his return home, signing hundreds of autographs and posing for dozens of selfies for supporters of both teams, some of whom remembered his days as a Shrewsbury played more than a decade ago, as well as many younger fans who idolise him as England's current No1.
While he may have been in demand from the moment he stepped off the team bus to the moment he departed after the final whistle, the 30-year-old took the adulation in his stride.
"Of course, I still follow Shrewsbury's fortunes. It's impossible not to keep an eye on them, especially in this day and age, as it's very easy to follow a team. I've still got a lot of friends and family in the town who keep me updated.
"It was really special to play there again. It's my home and, when I was a kid growing up and moved to Manchester at the age of 19 everything moved fast, now I'm an older man and stuff like going back is more important and touched me deeply.
"I knew most of the people at the ground, as Shrewsbury is one of those towns where you're connected to everyone through one or two people. It was nice, but during the 90 minutes they wanted their team to win and I wanted my team to win!"
Tickets for the Emirates FA Cup third-round replay are on sale now to Season Ticket Holders and Bondholders, priced £10 for Adults and just £1 for Under-16s. Click here to secure your seat and for full details.