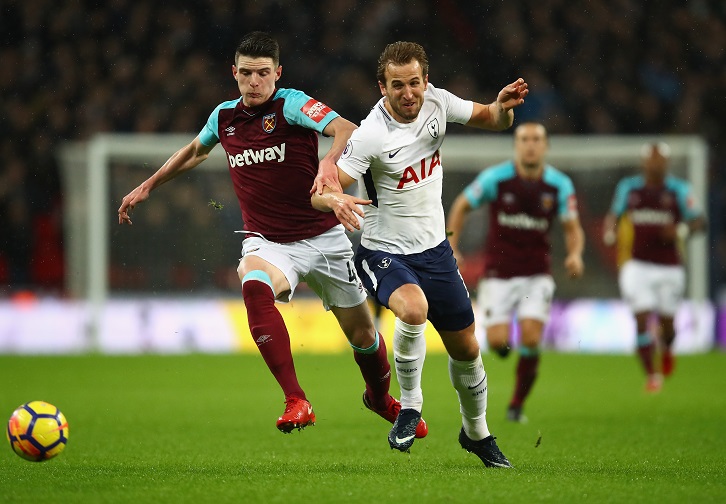 When Declan Rice was informed he had won the Premier League's Man of the Match award for his performance in Thursday's 1-1 draw with Tottenham Hotspur, his reaction was one of almost stunned disbelief.
However, that disbelief quickly turned to pride as the teenager reflected on a job immaculately well done at Wembley Stadium, where the teenager excelled on English football's biggest stage for the second time this season.
Still just 18, Rice played a starring role in the shackling of Harry Kane and company, impressing with his positioning, composure and ability to rise to the occasion. His heatmap (right) shows how the No41 had a big influence on the game, playing on the left of West Ham's three centre-halves.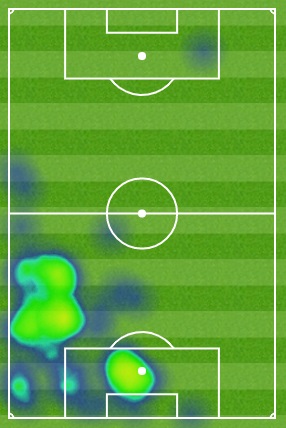 Playing just his 16th first-team match, the rookie made seven vital clearances, including six from inside his own penalty area and a vital early one from inside his own six-yard box to deny Kane a tap-in, as well as an interception and a tackle. Rice also blocked two Tottenham shots, including a last-minute effort from Spurs substitute Fernando Llorente, and three crosses.
The Irishman is also an intelligent user of the ball too, passing accurately with either foot to lift the pressure on his team.
Rice's display may have caught the eye, but he was not the only West Ham player to excel in his defensive role at the Home of Football.
Indeed, it is all too easy these days to dismiss organised, disciplined play as 'parking the bus'.
Rather than give supposedly inferior teams credit for finding a way to avoid a chastening defeat against superior opposition, some members of the media are quick to criticise for a perceived lack of ambition and entertainment value.
On Thursday, without the injured attacking duo of Marko Arnautovic and Michail Antonio, David Moyes unashamedly parked his West Ham bus on the Wembley pitch and invited Mauricio Pochettino to try and plot a route past it.
For 90 minutes, the massed ranks of Claret and Blue held firm, blocking, interception, tackling, heading or saving everything their illustrious hosts could throw at them.
West Ham sat deep, with a five-man defence shielded by Mark Noble, Pedro Obiang and Cheikhou Kouyate. Ahead of them, Manuel Lanzini and Chicharito, and later Andre Ayew and Andy Carroll, defended from the front whenever possible.
Indeed, the average position of the Hammers' players showed just striker Chicharito spent more time in the Tottenham half than his own, and even then it was only by a matter of a few yards.
Spurs also played into West Ham's hands somewhat, employing a narrow 4-2-3-1 formation with Son Heung-Min and Moussa Sissoko tucked in narrow alongside Dele Alli and ahead of Christian Eriksen and Eric Dier. Such were Tottenham's tactics that they rarely got wide and in behind Moyes' men.
But that should take nothing away from the way West Ham put everything on the line to take a very hard-earned point back around the North Circular.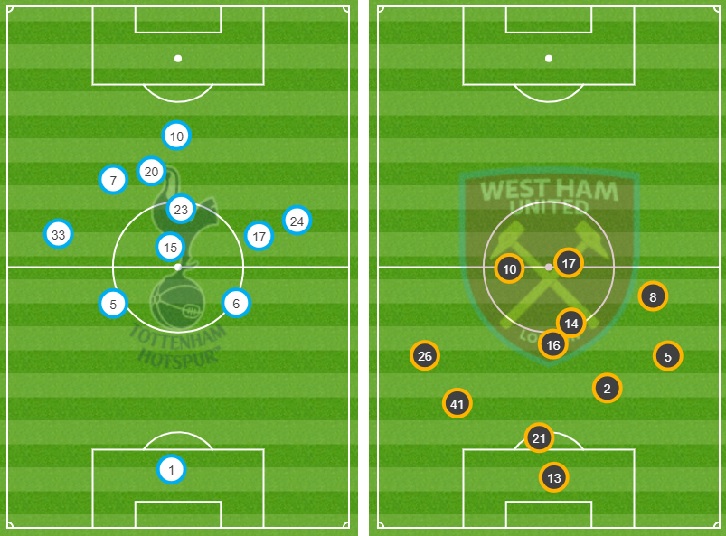 The Hammers blocked no fewer than 14 of Tottenham's 31 shots, including four in one dramatic 30-second spell deep into added time, when Rice, Noble, Kouyate and Winston Reid flung themselves in front of goalbound efforts from Fernando Llorente, Son, Victor Wanyama and Christian Eriksen.
And when Spurs did breach the West Ham back line, goalkeeper Adrian was – Son's unstoppable 30-yard shot seven minutes from time aside – in unbeatable form.
The Spaniard made seven saves, keeping out first-half efforts from Harry Kane, Son and Eriksen, and two second-half strikes apiece from the Denmark midfielder and England centre forward.
And so, driven by the indefatigable, unflappable Declan Rice, West Ham's bus deservedly drove away from Wembley with a Premier League point safely secured, and there was absolutely no shame in that whatsoever.