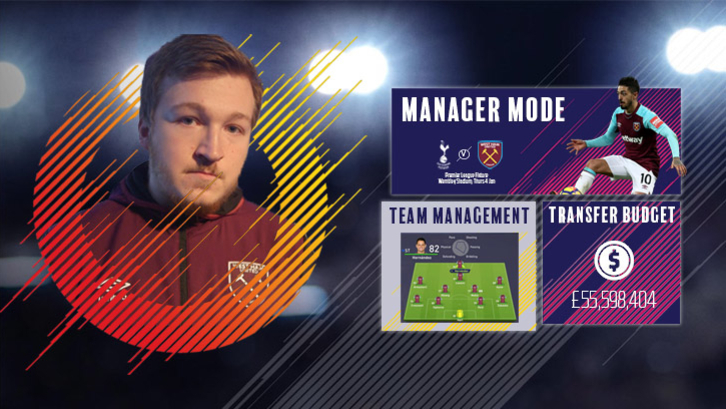 Midnight on New Year's Day saw the January transfer window open, giving clubs across Europe, including West Ham United, the chance to add to their squads for the remainder of the season.
With that in mind I've taken a look at how you can best make use of the transfer market in FIFA 18's Manager Mode as West Ham United.
THE BUDGET
The first thing to look at his how much you have to play with in the transfer window, and with a very generous £55,598,404 in the pot, West Ham have the 15th highest transfer budget in FIFA18.
That's more than the likes of Atletico Madrid and Borussia Dortmund, and with the right investment the Hammers can be turned into a real Premier League powerhouse.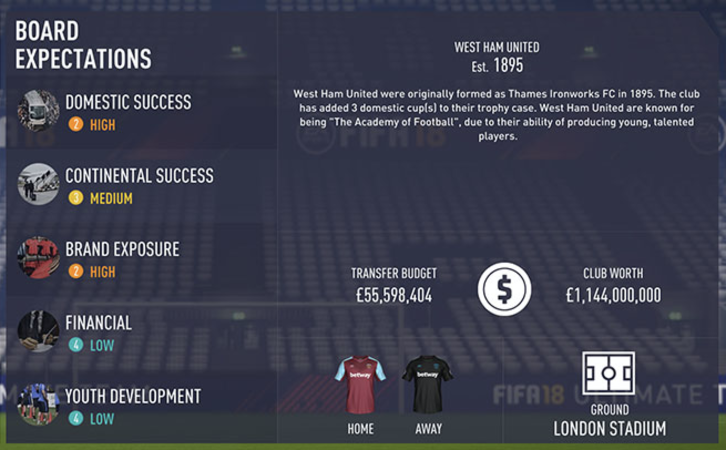 What also helps is that EA have set the Board's financial expectations as 'low'. This means you won't be expected to save a certain amount, trim the wage bill, or end the season with a profit. There is the license to go and build a strong squad.
THE SQUAD
Depending on the sort of FIFA player you are, you will want to tinker with different aspects of your team. I suggest that, in goal, your team is covered for at least the first season with Joe Hart on loan from Manchester City and Adrian also an option.
Statistically, the defence doesn't need to be a priority either, although if there is budget left at the end perhaps you might consider cover. I would recommend that the first area you look to strengthen is in centre-midfield.
In Cheikhou Kouyate, Pedro Obiang and Mark Noble, West Ham have three midfielders with ratings of 77 or 76. These are OK numbers but, if we're trying to take the Irons up the league, then investment would be worthwhile.
Marko Arnautovic and Michail Antonio are excellent wing options, although if you like to simulate matches then maybe another a right-winger could be on the cards, with Antonio's rating at 78 on the flank.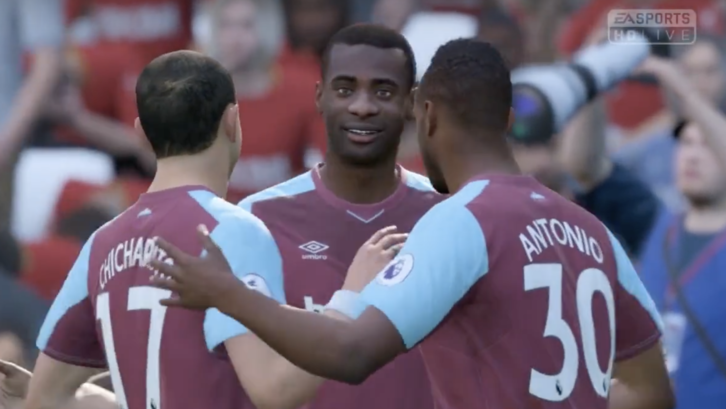 Manuel Lanzini has an 81 rating at attacking midfield, and this can rise to 86, so the Argentinian needs to become the hub of your team. Similarly, Chicharito has an 81 rating, so the attack doesn't need an immediate new addition.
TRANSFERS IN
Having established that centre-midfield is the area that needs immediate attention in the first transfer window, it's time to start selecting targets.
When it comes to Board expectations, there is a high priority on Brand Exposure. This, depending on the luck of the draw, will usually come through in the form of the Board requiring you to sign a crucial first team player in either midfield or attack.
To be on the safe side, you want to bring in a player with a rating of 81 or higher, who will then insist on a crucial role in your team. With a budget of over £50m, it should be fairly straightforward to sign two midfielders and still have enough left to bring in cover in other roles, should you deem it necessary.
TRANSFERS OUT
Once again, this depends on how you want to set up your team, but there is certainly room to offload one or two players to further increase your budget.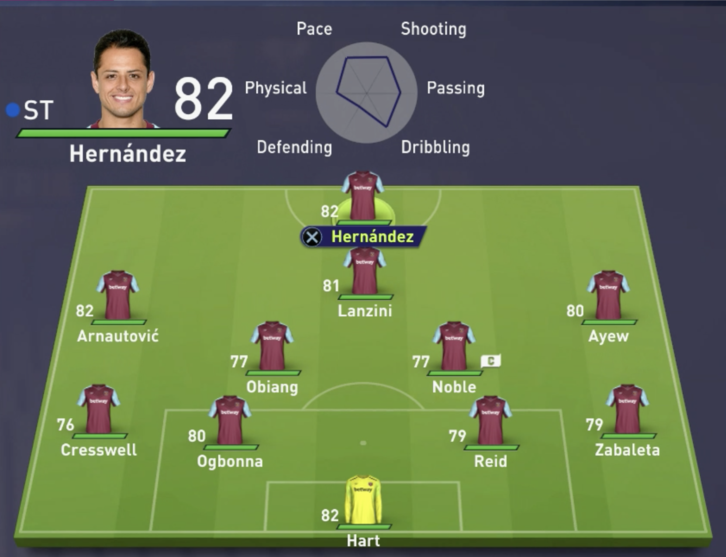 Up front the Hammers currently boast Chicharito, Andy Carroll, Diafra Sakho and Andre Ayew. Depending on your update Antonio could also still be classed as a striker, and even if you play two up front you do not need that many players.
Of the players named, Sakho comes with the lowest in-game rating, but selling any of these names will add at least £10m to your transfer budget.
At centre-back West Ham have Winston Reid, James Collins, Angelo Ogbonna and Jose Fonte, and while having four centre-halves is recommended, one could be sold if your side is struggling for funds. With Declan Rice a young, talented defender, and Reece Oxford available for recall from a loan, extra cover can be found quite easily.