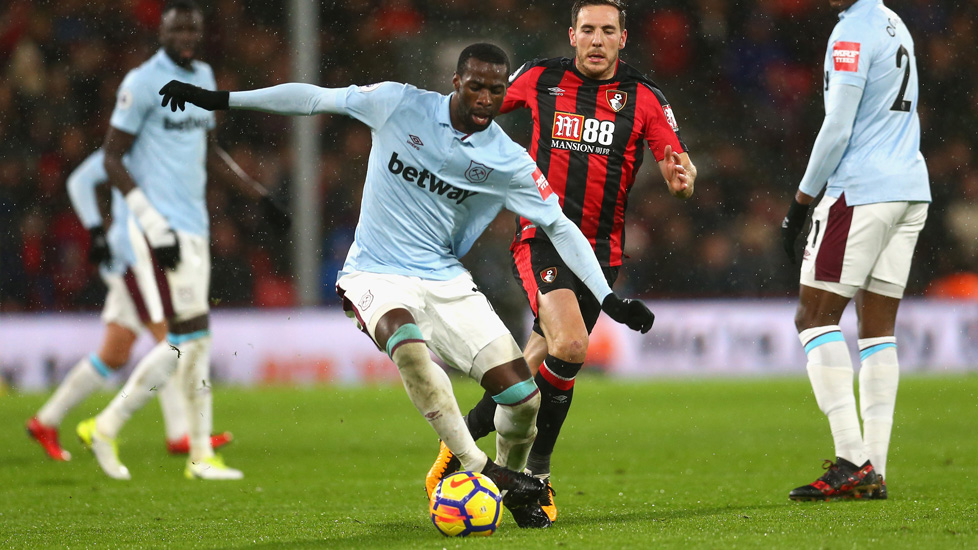 Pedro Obiang is ready to kick-off a big week in West Ham United's season when they take on West Bromwich Albion on Tuesday night.
The Hammers face the struggling Baggies in their first match of 2018, looking for a vital three points as they aim to climb out of the division's bottom three.
Last time out they were pegged back in controversial circumstances as AFC Bournemouth claimed a last-gasp leveller in Boxing Day's 3-3 draw and Obiang says the team need to take the next step and claim all three points when they face the Baggies.
"It was frustrating because with the position we're in, three points would have helped us very much but we have to make the best of it and we have West Brom on Tuesday now," the No14 said.
"It's the first game of the New Year, and for us – and for them – it is a very important one. We need points and it will probably be a different game from the one we drew with them there earlier in the season.
"Both teams have new managers from then, and we both know that with three points everything can change. It's happened with Everton and we are looking to do the same."
Marko has changed things for him and he's changed us too. Now we need to arrive at his level and help him to become even stronger than he is

Pedro Obiang
Obiang has been impressed with the David Moyes impact since the Scot took over as manager in November, but says there is more to come from the team.
"The biggest change is with the mentality," he continued. "We have to keep going and we're still working for that, he's come here to do good things with us and we want to do it.
"He's a strong personality and he's tried to put that in us. He's trying to give us a plan to follow little by little. Maybe we haven't done it perfectly so far, but we are close to getting to the level he wants."
One player who has really kicked on over the last month is Marko Arnautovic, scoring five goals in as many league games, and Obiang wants to take inspiration as he looks to improve his own form.
"Marko has done great things," he said. "He found himself in a bad situation at the start of the season and worked a lot to come back. He concentrated a lot on that because he knew how important it was for the team and for the supporters.
"After that, he's changed us too. Now we need to arrive at his level and help him to become even stronger than he is.
"I can do better and I need to work [hard to do that]. That's the only way I know, and little-by-little take some results. You have to start from there, you have to think about what you can do now and that's what I need."