West Ham United striker Andy Carroll features in a new Kick It Out film promoting LGBT+ inclusion in football and emphasising that homophobic, biphobic or transphobic (HBT) discrimination has no place in the game.
LGBT+ inclusion remains a central part of the work done by Kick It Out, football's equality and inclusion organisation, and the film encourages supporters to report any abuse they witness or suffer – whether it's to a steward or to Kick It Out via its free reporting app. 
The 90-second film, which you can view on this page, features Carroll alongside stars from all 20 Premier League clubs, including Tottenham Hotspur's Jan Vertonghen, Chelsea's Eden Hazard and Alvaro Morata, Manchester United's Juan Mata, Manchester City's Vincent Kompany and Arsenal's Danny Welbeck.
The Premier League is embraced across the world and we are proud to show our continued support for LGBT+ inclusion in football

Premier League Executive Director Bill Bush
Roisin Wood, CEO of Kick It Out, was delighted to work closely with every Premier League club and release the film at a time when the country is marking LGBT History Month.
She said: "Kick It Out have been campaigning for LGBT+ inclusion in football for a long time and it's wonderful that we've been able to bring all 20 clubs together for the first time in our history to take a stand against HBT discrimination. This is about the collective force of the game uniting to eliminate behaviour that has no place in the game.
"We also wanted to send out a positive message to fans across the world and make it clear that LGBT+ supporters are part of the foundations of football – just like any other fan."
Bill Bush, Executive Director of the Premier League, gave his endorsement to the film, adding: "This film produced by Kick It Out features all our member clubs and highlights the need to challenge homophobic, biphobic and transphobic behaviour across the sport.
"The Premier League is embraced across the world and we are proud to show our continued support for LGBT+ inclusion in football."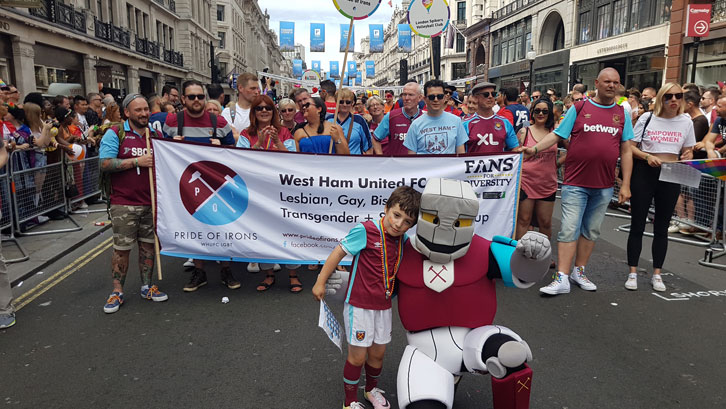 West Ham United are proud supporters of Kick It Out and the annual Football v Homophobia and Stonewall Rainbow Laces campaigns, all of which are aimed at eradicating discrimination and making LGBT supporters feel welcome at London Stadium.
The Club has also worked closely with its official LGBT Supporters Group, Pride of Irons, towards the same ends since its formation in 2015.
Pride of Irons founder Jim Dolan endorsed Kick It Out's campaign: "We don't want to be a group of people who go around grassing people up. What we want to do is challenge things and get people to understand we are not here to try and get people chucked out and change the culture of the Club – we want people to realise that we are part of that culture."
For more information about Kick It Out's Premier League and LGBT History Month inclusion initiative, click here.