Brian Dear has paid tribute to his 'great mate' Bobby Moore, 25 years on from the late, great West Ham United and England captain's passing.
The pair became close friends after the striker joined the Hammers in 1958, the same year the centre-half made his first-team debut against Manchester United at the age of 17.
Dear followed Moore into the side four years later and the two east Londoners played a starring role as West Ham won the European Cup Winners' Cup at Wembley in 1965.
He was generally just a nice fella, just one of the boys, there was no big time with Bobby

Brian Dear
On the pitch, Dear said there was nobody better than his old pal 'Bob'.
"When you see pictures of him when he was a young man, playing schoolboy and youth football, he was a bit dumpy," said Plaistow-born Dear, now 74 and still in the game with Southend United. "They all said he couldn't run or couldn't head a ball, but he had a brain, which put all the other stuff to bed.
"I think he was revered as well by lots of players on the continent; people like Pele and Beckenbauer, those type of people.
"He was a pleasure to play with and as you know he wasn't the quickest player in the world or the greatest header of the ball, everybody always says that. However, his brain was a little bit better than everybody else's and his positional sense was fantastic whilst the tackles he made were very decisive.
"He was just a natural for that position. Whether he would be as good these days, because football has changed so much, I don't know. They don't have left-halfs, centre-halfs and right-halfs, they have four across the back. But I'm sure he would have coped OK, he was a fantastic player."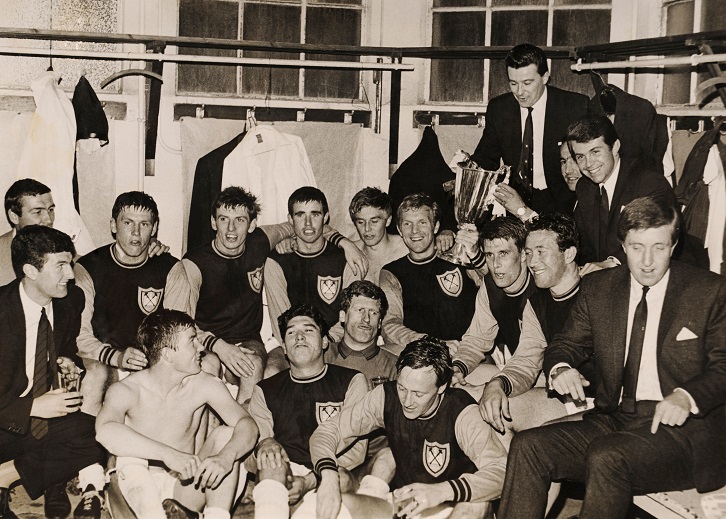 Off the pitch, the duo became inseparable, starting a relationship that would endure for more than three decades until Moore's tragic passing on 24 February 1993, at the age of just 51.
Both lived in Hornchurch before Dear moved to Southend in the 1980s, running a pub where Moore stayed while he managed the town's football club between 1984-86 and took up a role on the Board at Roots Hall, before Dear himself was appointed catering manager.
"He was generally just a nice fella, just one of the boys, there was no big time with Bobby," recalled Dear. "He was a good mate, a great mate, and he took us to all the nice places. He knew the West End like a taxi driver and he was welcomed everywhere because he behaved himself!
"I had great times with him. When you were Bob's mate, he was very loyal, and that's why I was very loyal to him. He'll never forget you, and I'll never forget him.
"He was a joy to be with, great to play with and an amazing fella."