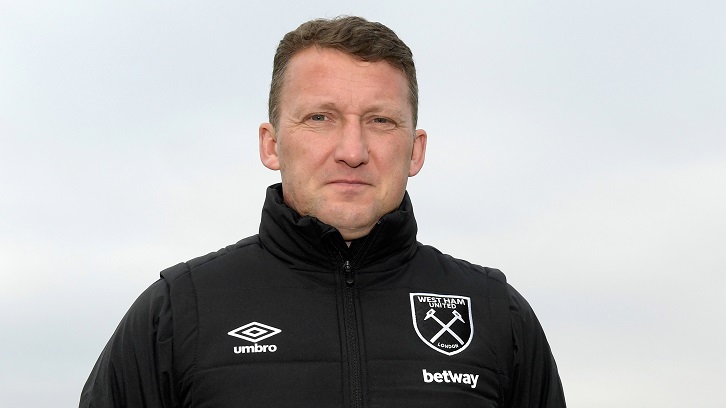 Few British coaches have amassed as many different experiences as West Ham United assistant Billy McKinlay.
Still just 48, relatively young in the world of management, the Scot has coached an international team, Premier League players, scholars and young professionals, assisted and scouted in England and Spain and managed clubs in the Premier League and Norwegian top-flight.
McKinlay has put together this impressive resume in the space of 13 years, having been appointed to his first role in coaching at Fulham by then-manager Chris Coleman in 2005.
The former Dundee United, Blackburn Rovers and Scotland midfielder started out as a reserve-team player-coach at Craven Cottage before working his way up to the role of first-team coach under Dutchman Martin Jol.
In 2012, he also took on a part-time role assisting Northern Ireland manager Michael O'Neill, a man he had previously played alongside for four seasons at Tannadice.
When Jol was sacked after a 3-0 defeat at West Ham United in December 2013, McKinlay departed with him, ending a ten-year association with the west London club.
Undeterred, the Glaswegian moved to Watford in September 2014, serving as first-team coach under Oscar Garcia before replacing him a few days later due to the Spaniard's ill-health.
McKinlay was promoted to manager, leading the Hornets to a win, a draw and third in the Championship before being removed by Watford owner Gino Pozzo after just eight days in charge!
Having given up his role with Northern Ireland, McKinlay found himself unemployed, before taking up his first coaching role under compatriot David Moyes at Real Sociedad in November 2014.
We've had some good results and some tough ones, but everyone is working hard and pushing in the right direction

Billy McKinlay
After a year in Spain, he took up his second managerial role, this time taking charge of Norwegian Tippeligaen club Stabaek, where he remained for seven months before being reunited with Moyes at Sunderland, where he worked as both a scout and coach until being following his boss to West Ham United last November.
Since then, the pair, alongside Alan Irvine, Stuart Pearce and Chris Woods, have worked morning, noon and night to improve the Hammers' fortunes – a role McKinlay told the Official Programme he has relished.
"Personally, I've really enjoyed it, working with the staff, the boss and the players," he confirmed. "Everybody has been first-class with the way they have welcomed us in.
"We've been working from Day One, having realised how big a club this is, and that's been reiterated to me on many occasions.
"We've had some good results and some tough ones, but everyone is working hard and pushing in the right direction, so I can't thank everybody – the groundsmen, the chefs, the media team – enough for making me feel really welcome since we came in."
While training grounds are places full of banter and fun, they are also places of work, and McKinlay and his fellow coaches have been putting in long hours in an attempt to steer their new employers up the table.
"There's plenty of work to be done. We need another shed-load of points to make sure we're safe, so we're under no illusions and everybody shares the same opinion about that.
"The manager sets a great example with his work ethic. I've worked with him before, as have Alan and Chris, and we knew we would be putting in the hours and working with great intensity, so it's something we're used to and will continue to do that."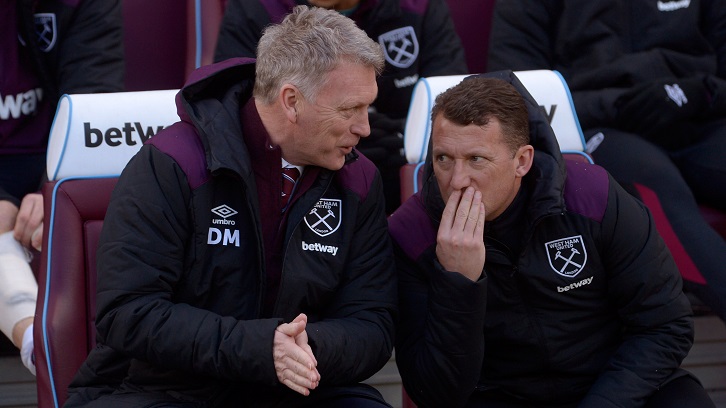 In a recent interview, Moyes praised McKinlay for his 'really good eye for a player', his meticulous approach and the 'light-hearted' personality he brings to the coaching staff.
McKinlay himself is flattered by his manager's words.
"As always, as coaches we are here to support the manager in any way he deems necessary and we've all got strengths.
"One thing I don't like to do is talk about myself, but the manager has used some kind words there.
"I'm keen to learn, keen to get involved in everything and have always tried to be logical with my work and methodical in how I analyse and approach things, even if it might not look like it at times because I'm a bit more light-hearted than some people.
"I try to find solutions to what we're going to come up against, whether that be players or teams and what they do, and I like to be detailed in what I am looking for, working out the whys and what is required.
"Within all that, there's character in there and, after all, footballers are human beings and there is always a time for everything, including smiles."
As one of a trio of assistants, McKinlay's role is slightly fluid, with Moyes using all three as a brains trust to ensure all his coaching, management, analytic and other bases are covered.
The management team meet twice every day to discuss training, coaching, treatment, scouting and anything else that needs to be done, with Moyes deciding which of McKinlay, Irvine or Pearce are best suited to each individual role.
While the manager is most definitely in charge, there is also democracy in the coaches' room, with each encouraged to share their expertise and opinions when they see fit.
"We're pretty intense and detailed at the training ground during the week, then on matchdays Alan sits up in the stand and communicates with me on the bench.
"I see my role as, among other things, to say the right thing at the right time, when I need to say it, and get my message across appropriately.
"I don't feel a necessity to have an opinion on everything, but I try to contribute to what we're trying to achieve in the best way possible.
"We've got a lot of experience here and we all have contributions to make."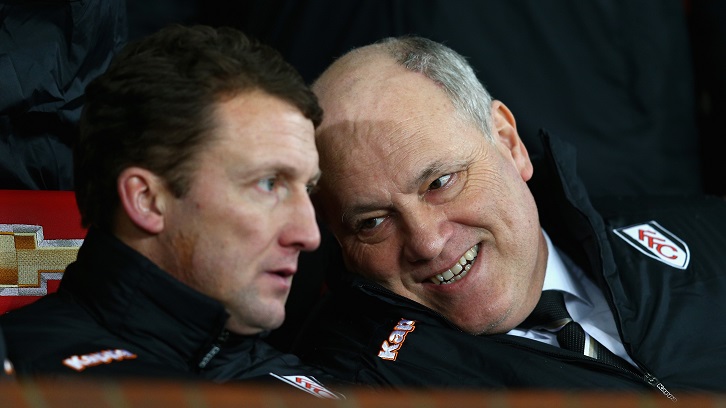 McKinlay's experiences have shaped his own coaching and management career, with the ups he has enjoyed and downs he has endured giving him a wide-ranging view of football and how the game works.
While he might like to take back some of the decisions he has made, the straight-talking Scotsman is naturally optimistic and positive about the future.
"Back at Fulham, I was fortunate that Chris Coleman, who I'd played with at Blackburn, gave me the opportunity to work there, which was a good start for me, then Ray Lewington came in as head of coaching and helped me so much.
"What I always wanted was to be self-sufficient in my coaching and be able to coach to the best of my ability, and I was fortunate that Ray gave me his time and his knowledge in the early part of my career. Martin then gave me the opportunity to step up to the first team for two-and-a-half years.
"I then managed Watford for a short period of time before having a brilliant year in Spain working under the boss, coaching and living abroad, which was terrific for me and a great learning period.
"I worked under Michael with Northern Ireland and my biggest disappointment about going to Watford was that I gave up that job.
"I had a spell in Norway which didn't go as well as I'd hoped, then came back to work here, back with the manager again.
"I've been well-travelled and worked with some great people at some great clubs, and long may that trend continue."