Reaction
Moyes says outstanding Arnautovic 'can get even better'
Demanding David Moyes was begrudging in his praise for Marko Arnautovic after the Austrian marked his comeback from a hamstring injury with a match-winning display in Saturday's 2-0 Premier League victory over Watford.
Arnautovic was at his hard-working, dominating best against the Hornets, highlighting an outstanding personal performance with his side's vital second goal 12 minutes from time.
Manager Moyes was impressed, but is demanding more from his attacking talisman after seeing him fire one gilt-edged chance straight at Watford goalkeeper Orestis Karnezis with the game still goalless.
You can see the difference Marko makes to us going forward. He's got power, pace and quality on the ball and he's doing a really good job

David Moyes
"He's not getting any praise, that's for sure!" the Scot said, only half-joking. "He's getting told he has got to keep at it and he's getting pushed all the way! We're telling him he is doing well for us, but he's not getting off the hook. I think he's got a bit to go.
"He's only trained three days this week, to be fair, and you can see the difference he makes to us going forward. He's got power, pace and quality on the ball and he's doing a really good job. I told him he should have scored more goals, but he should also have had a penalty kick for a foul on him in the first half.
"Was it a risk? I didn't feel it was a risk because he gives me all the right vibes. It was about what condition he was in physically and if you have him in the right frame of mind, he's very difficult to play against. He did well. He is a real threat.
"When he came in with that new hairdo on Thursday I didn't want to say it looked bad, so I told him 'I think that looks great Marko' and he went away happy. I thought it was a purple rinse he had put in there!"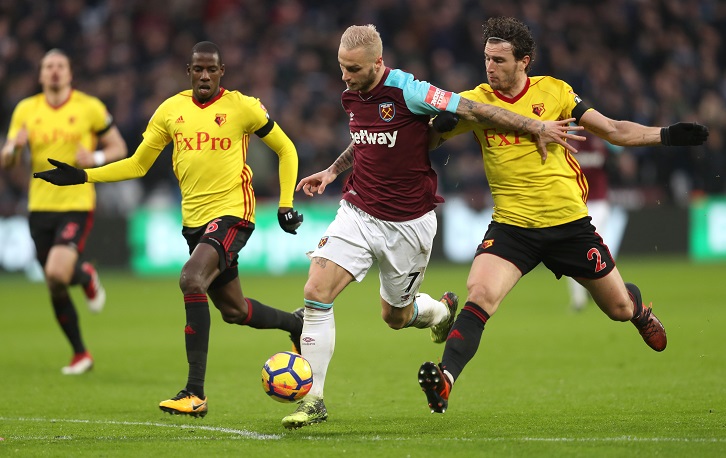 Talking about his team's performance as a whole, Moyes was pleased with the way they dealt with a Watford side who had thrashed the champions just five days earlier.
Three points saw the Hammers draw level with the eleventh-place Hornets on 30 points and close the gap on the top eight to just six.
"This Watford team just beat Chelsea 4-1 on Monday. They put us under pressure in the second half, so this was always going to be a difficult game for us.
"For us to draw level with them [is good], as Watford have always been above us, certainly since my first game [at Vicarage Road in November], we've never been level with them or close to Watford. Today we've drawn level with them.
"People say we're quite close to the bottom end and we're totally conscious of that, but we're also pretty close to ninth, tenth and eleventh as well, so we've got to keep thinking that way if we can."
West Ham have now lost just four of their 13 home Premier League games this season, and just one out of eight since Moyes took charge in early November.
"I hope that's the case and I think it sometimes goes amiss that we kept a clean sheet as well. We've got goals in us, but the thing for us was to stop West Ham conceding goals and I think we've done a good job in making us harder to play against. Because of that, it's helped us.
"The only real disappointment was [a 3-2 defeat on 23 December] by Newcastle. We had a couple of draws when people were out of the team, but thankfully we're getting players back and they are certainly made an impact against Watford."