Patrice Evra is looking forward to repaying David Moyes' faith in him every time he pulls on a West Ham United shirt.
The five-time Premier League winner was reunited with his former Manchester United manager on Wednesday, when he put pen to paper on a short-term contract with the Hammers.
The pair developed a mutual respect and trust for one another during the 2013/14 season, when they worked together at Old Trafford, and Evra is thankful to his old boss for giving him another crack at England's top flight.
When I was in Manchester United, we had a great relationship and for me that will keep going on when I play for West Ham

Patrice Evra
"I have known the manager since we were in Manchester and since the first meeting we had there, we have been straight and honest and it was the same when I saw him on Tuesday, talking straight and honest," said the new No27, who said it too no time at all for Moyes to convince him to join West Ham.
"He is really glad to see me and I am the same. I like to work hard for the Club, because that's the most important thing, but the manager is really important and I like to have a good relationship with every manager I play with.
"Even when I was in Manchester United, we had a great relationship and for me that will keep going on when I play for West Ham under him. I will just do the same.
"He trusts me and I trust him. Now, we can talk a lot but the most important thing is acting on the pitch."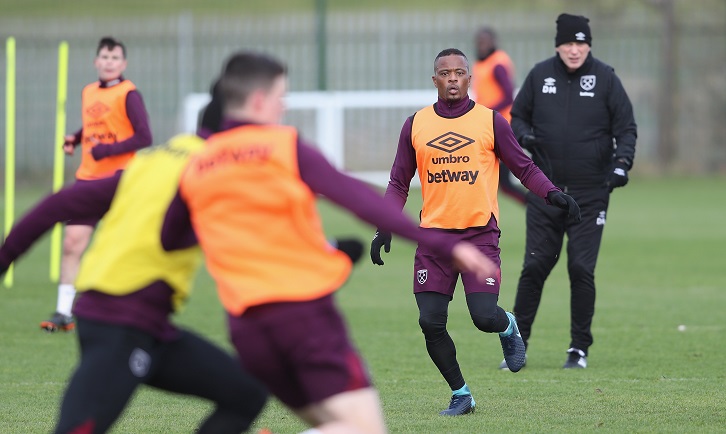 Moyes was not the only familiar face to welcome the former France captain to Rush Green on Wednesday, when he trained alongside his teammates for the first time ahead of a potential London Stadium debut against Watford this weekend.
Evra played alongside Chicharito for four seasons at Manchester United, winning the Premier League title in 2011 and 2013, and Angelo Ogbonna at Juventus in 2014/15, when the pair won the Italian League and Cup double and reached the UEFA Champions League final.
Having made 273 Premier League appearances during his seven-and-a-half seasons as a Red Devil, there are very few members of the West Ham squad who are unfamiliar to the new boy.
"I know them and I know Pablo Zabaleta, I know everyone! I came from a big family so, for me, sharing is something normal.
"I want to share my happiness and my work ethic. They know how professional I am. I am someone who likes to have fun but when it is time to work, I don't like to laugh too much.
"They gave me a nice welcome but even if I don't know them, for example I have played a lot times against Mark Noble, when he saw me he was happy and I really happy and was like 'Are you still running everywhere? How long have you been here?' and he said '20 years!' so it's everyone!
"I can't wait to help them win most of them games we play."