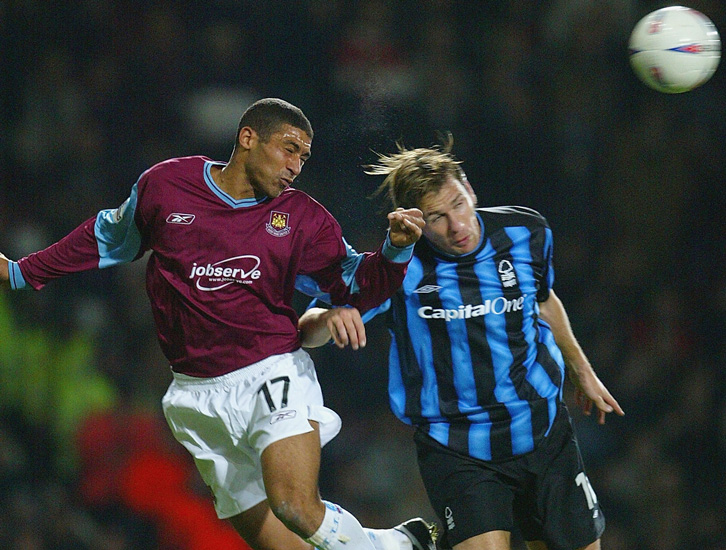 Hayden Mullins recalls his seven favourite memories in Claret and Blue…
A BAPTISM OF FIRE
My debut for the club, against Nottingham Forest in October 2003, was a bit of a whirlwind. Alan Pardew had just taken over as manager and I was his first signing.
I remember going to Upton Park the day before the game because the team were training on the pitch.
I watched from one of the executive boxes behind the goal, then had a medical, then another medical, then more talks, and it was 1.30am by the time we got everything done.
I was absolutely shattered but Pards then told me he wanted me involved straight away and in the team the following night!
The first time I met my new team-mates was when I walked into the dressing room two hours before kick-off. I had asked Pards if I had to wear a suit or a tracksuit, and he said to wear a suit.
Of course, when I turned up, all the other players were wearing tracksuits and I was sat there in my best suit and tie!
It was like being the new kid in school, except I was surrounded by international players, the likes of Jermain Defoe, David James, Michael Carrick and Christian Dailly.
I was playing at right-back, we drew 1-1 and I remember Andy Reid hitting an absolute bullet from about 30 yards.
I knew I had made the right decision, though. Despite the fact that the club had just been relegated, there were 30,000 fans cheering the team on a Tuesday night and I realised I had joined a massive club.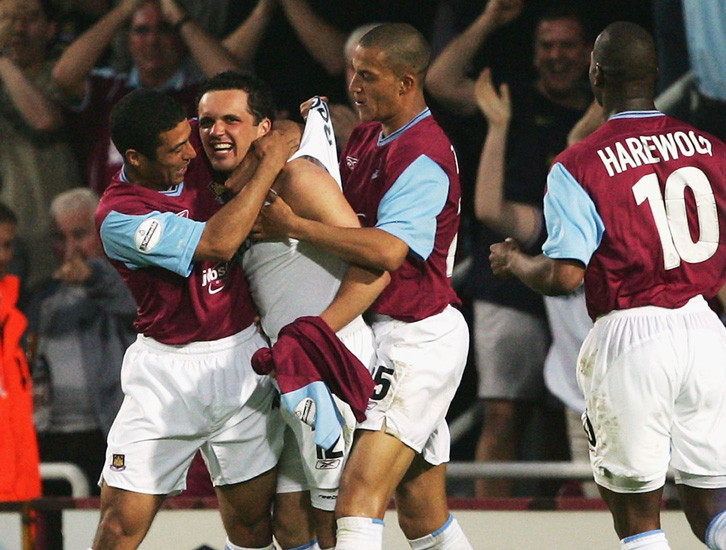 PLAY-OFF HEARTBREAK
My first season at the Club was pretty steady – we managed to stay in and around the Play-Off places throughout and the semi-final against Ipswich was a huge tie.
By that time I was playing at left-back – I always seemed to be the one shifted around!
After losing the first leg 1-0 at Portman Road, there was a lot of pressure on us to turn it around at Upton Park.
I remember before the game, Pards told us that if we could put 25-30 crosses into their box over the course of the game, we would definitely win, and that proved to be the case.
Matty Etherington scored a cracker from a short corner and Christian Dailly got the winner late on.
The atmosphere inside the stadium that night was unbelievable but obviously it went from an extreme high to an extreme low pretty soon with the defeat against Crystal Palace in the final at Cardiff.
For me personally, it was obviously hard to take that Palace – the club I had left as captain to join West Ham – went up instead of us after coming from nowhere to get into the Play-Offs, but most of all I was just disappointed that we hadn't achieved our aim.
There was a lot of talk afterwards that we had over-hyped things and put too much pressure on ourselves but, looking back, I don't really think that was the case. We prepared in the right way and actually played quite well and had a number of chances – it was just one of those days when things didn't go our way and we didn't get that bit of luck we needed.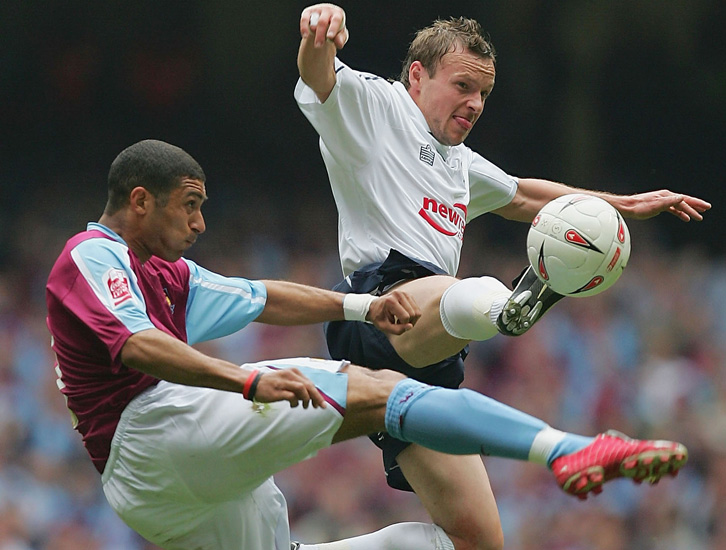 REDEMPTION IN CARDIFF
There was a bit of a hangover from losing that first Play-Off final – we had a stop-start season the following year and at one point it looked like we might not make it.
Suddenly, though, we changed the team a bit, things clicked and we made late run, winning four on the spin.
We lost to Sunderland at home but then beat Watford on the final day to secure our place and went into the Play-Offs with a bit of momentum.
After beating Ipswich again, we went into that final against Preston with a lot of confidence.
Ironically, we probably didn't play as well as we had done the previous year, but we knew what we were about as a team and had a real belief in ourselves to get the job done.
We were young, we were hungry, and we wanted to get in the Premier League. Bobby Z took his one chance when it came, and we knew we would hold on to win, even with Jimmy Walker's knee almost jeopardising it right at the end!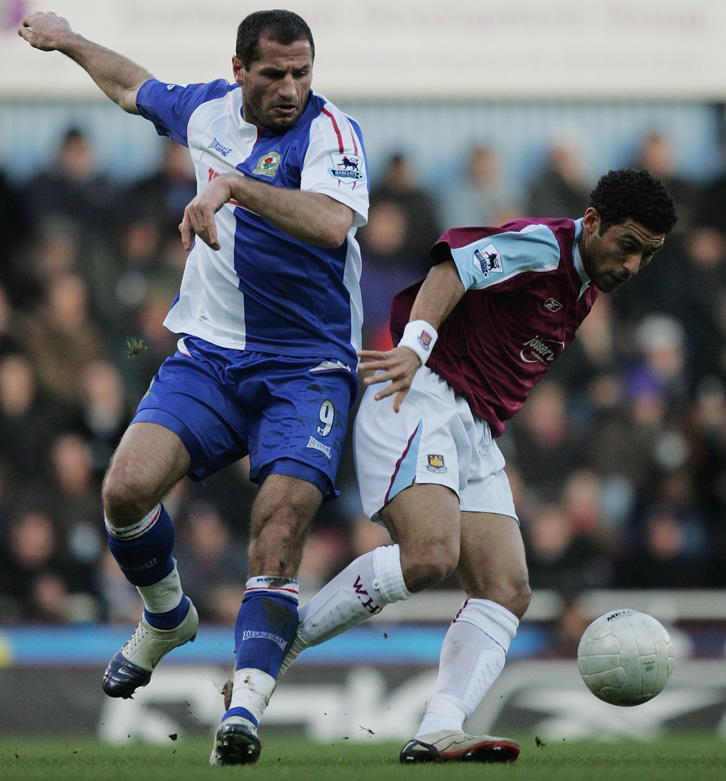 ON TOP OF MY GAME
There was a wonderful feeling around the Club in the summer after winning promotion. The mood in pre-season was fantastic and everyone was so excited in the build-up to our opening game against Blackburn.
For me, at 26, to finally reach the Premier League was amazing. I already had something like 300 senior appearances under my belt, so I was experienced but still young and hungry.
And that was the case for a few in our team. We went behind early on against Blackburn but, again, everything clicked in the second half and we came back to win 3-1. We scored some great goals, and Upton Park just erupted.
I think we could all sense that we were a part of something special. It was interesting to see Mark Noble reflecting on that game last week – he came on as a substitute for me in what was his first Premier League appearance too and he has now reached 300. It was a special day for a lot of West Ham players.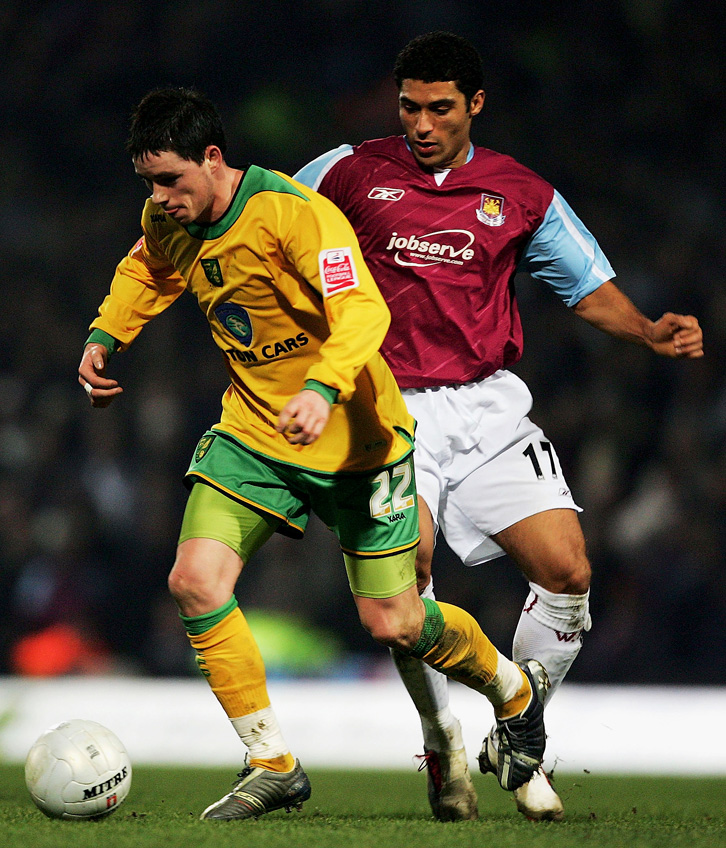 PICK THAT ONE OUT GREENY!
I didn't get many goals for West Ham – six in total!
My best was definitely at Norwich in the third round of the FA Cup in January 2006. Bobby laid the ball back to me on the edge of the box and I just caught it really clean.
Rob Green was in goal for Norwich that day, a few months before he joined us, and he claims he would have saved it if he hadn't been unsighted…no chance!
It was the pace that beat him, he was getting nowhere near it. Looking back now, if I have one regret about my West Ham career it is probably that I didn't shoot often enough.
I think I turned a lot of shots down in favour of keeping the ball or passing to a team-mate, when I actually had a decent strike on me.
My son now plays football and thinks he's better than me so it would be nice to show him a few more goals like that on YouTube!
SEEING RED
Without doubt, one of the biggest disappointments of my entire career was missing the unforgettable FA Cup final against Liverpool later that season through suspension, after being red-carded against the same team in the Premier League a few weeks earlier.
It was stupid from me and I should have known better. Especially as Alan Pardew had said to us all before the game: 'Don't get sent-off – if you do you'll miss the cup final.'
That was ringing in my ears as I went out on to the pitch, yet I still allowed myself to get in a tangle with Luis Garcia.
I'd eased him off the ball and he swung an elbow in my back, and so I turned round and put my hands on him and he went down.
We both got a red card and that was the cup final dream over.
Personally, I was absolutely devastated, and it was hard to see the lads enjoying all the little things around a cup final that are so special – the suit fittings, getting their boots personalised for the game, that sort of thing.
I was lucky enough to get to play in a final with Portsmouth in later years, but I'll always have a tinge of sadness that I didn't do it with West Ham, in one of the best finals of the modern game.
ESCAPE TO VICTORY
Despite the fact that they had already won the Premier League, going to Manchester United on the final day of the season knowing that we probably needed to get something from the game to stay up was quite a daunting prospect.
We'd had a rollercoaster of a season and it was sad that Alan Pardew lost his job halfway through, because I think if he had being able to bring in the players that came in the January – the likes of Lucas Neill, Matty Upson and Luis Boa Morte – then I'm sure we would have also stayed up under him.
We went on a magnificent run at the end of the season, though, inspired by Carlos Tevez, and he was our hero again at Old Trafford.
I remember after about 60 minutes, they brought on Ryan Giggs, Cristiano Ronaldo and Paul Scholes – and we all just looked at each other and thought: 'Here we go!'
Somehow, though, we held on to win and the feeling at the final whistle was absolutely fantastic. It's up there with the biggest achievements in my time at West Ham.