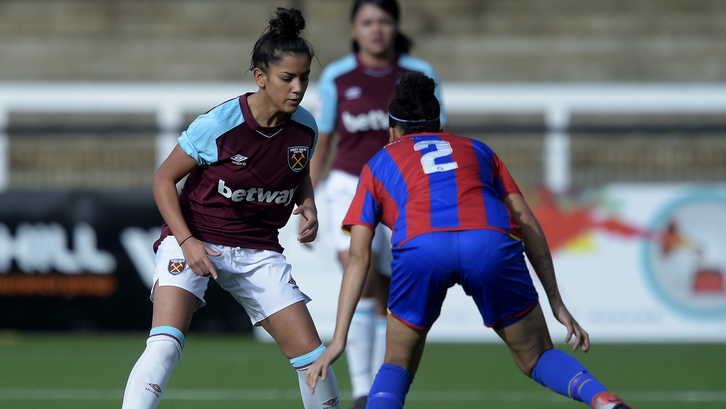 A frantic and pulsating contest between West Ham United Ladies and Crystal Palace Ladies ended 0-0, with both sides having goals ruled out for offside.
The Hammers created a number of excellent chances in the fixture, with Ellie Zoepfl going close in the first period while Amber Stobbs tested the Palace goalkeeper in the second.
Palace thought they had scored in the second half but their effort was ruled to be offside, while substitute Molly Peters looked to have won the game for West Ham in the final minute, only for her goal to be disallowed for the same reason.
It means a share of the points for Karen Ray's side, with her team unbeaten in their three matches over the last seven days.
The Irons lined up with a 4-1-4-1 formation, with the pacey Rosie Kmita through the middle, and almost immediately the strategy showed merit as the No7's pace almost put her in.
Palace tested Grace Staunton with a low effort before West Ham saw two penalty appeals waved away in quick succession – the first for a tackle on Kmita and the second on Zoepfl.
The two attackers then combined excellently for the best chance of the half. Kmita played in Zoepfl, who shrugged off the defender, but the striker could only send her effort over the bar from around 12 yards.
A feisty first 45 minutes also saw Palace send a free-kick just wide of the near post while the Hammers relied on some last ditch defending from Hannah Wheeler, Jasmine Auguste and Chenise Austin to keep the score level at the break.
Amber Stobbs saw a free-kick saved on the hour mark, and the No10 came very close to scoring from the resulting corner. Her effort on goal was incredibly well saved.
Defender Austin then made a sensational late tackle to deny Palace a finish, but the home side then put the ball into the net, only for it to be ruled out for offside.
Stobbs continued to be the main threat in the second period, seeing a number of shots well blocked or dealt with, with Andria Georgiou threading the ball through to the midfielder for an excellent opportunity towards the end of the contest.
There was a huge let off for the Irons on 88 minutes. The ball fell to Palace's Rowlands in a one-on-one situation, but somehow the home side failed to score, with the ball trickling wide.
With just a minute left on the clock, the Hammers thought they went ahead. Peters – on for Kmita – was released into the area and her cool finish found the net. However, the linesman adjudged the through ball from Zoepfl to have come to Peters in an offside position.
West Ham United Ladies: Staunton; Mackie, Wheeler, Austin, Auguste; Cooper (c), Chong, Georgiou; Stobbs, R Kmita (Peters 75'), Zoepfl
Subs not used: Burr, Mabey, Wealthall, M Kmita
Crystal Palace Ladies: Lynch; Jones, Bailes, Paye, Holdaway (c), Sherwood (Chandler 64'), Maple, Rowlands, Whinnett (Foreman 22'), Stenning (Bryan 62'), Davenport
Subs not used: Green, Collins