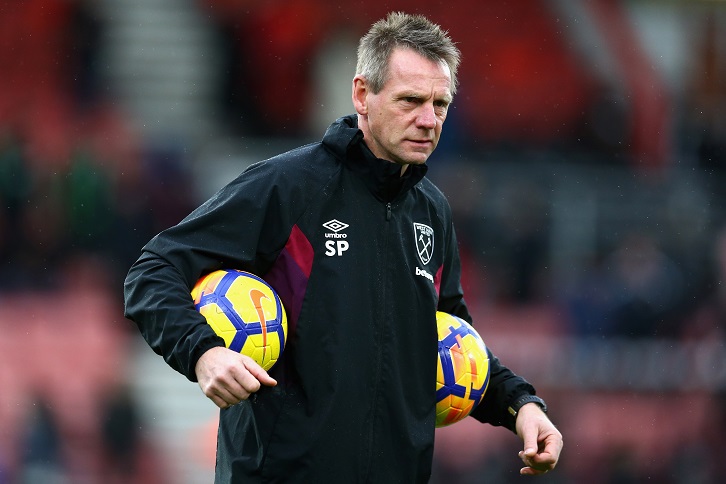 A strong team is greater than the sum of its parts, so the old saying goes, and certainly appears accurate with reference to David Moyes and his experienced backroom staff.
The Scot has surrounded himself with people who have virtually seen it all, where football at the highest level is concerned.
Alan Irvine played in the top flight and domestic cup finals for Everton before managing West Bromwich Albion in the Premier League; Chris Woods kept goal for England, won the League Cup with Norwich City and four Scottish Premier League titles with Rangers; Billy McKinlay played for Scotland at the FIFA World Cup finals and unearthed a host of future stars while coaching at Fulham.
The fourth member of Moyes' all-star quartet of assistants is arguably the most-experienced of them all.
Stuart Pearce played non-league football until the age of 21, before turning out 709 times as a professional, scoring 102 goals, captained Nottingham Forest to the Premier League, two League Cup triumphs and an FA Cup final, won the Hammer of the Year award at the age of 39, was capped 78 times by England, featuring at three major tournaments, and has managed Team GB, England's U21s and Manchester City.
A true legend of the game, Pearce returned to the Club he played for between 1999 and 2001 three months ago, and has since played his part, alongside Irvine, Woods and McKinlay, in turning West Ham's season around.
The man himself, now 55, puts the Hammers' resurgence and new-found resilience to the faith put in him and his fellow assistants by manager Moyes.
Working as part of this coaching set up has really been an education for me

Stuart Pearce
"For me, it's been two-fold, really. First, being back at a Club that I represented before, so it that gave me a bit of a head start, if you like, and second, working as part of this coaching set up has really been an education for me.
"David has got a wealth of experience, as have Irv, Billy and Chris. I'd never worked alongside them as a coach before so every time I come in has been a learning for me.
"The thoroughness of the manager has been the one thing that has really stuck out for me; the depth in which he studies the opposition.
"What I like about him as well is that he courts opinion and he is not afraid. He wants opinion and he wants the people around him to give opinion and, for me, that is ideal management and ideal leadership, if I'm being quite honest with you.
"His wealth of knowledge is there for all to see. I've sat in meetings and the way he has analysed the opposition and set teams up to go to places like Manchester City and face teams like Chelsea at home to try and get performances and results have been very good.
"We've got a lot of work to do, there's no doubt about that, and it's not straightforward work, so I see it as an education, as well as fulfilling a role at the football club."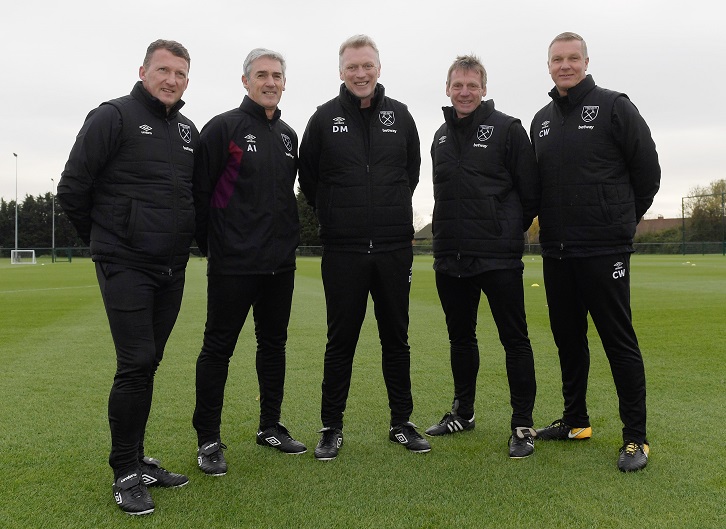 West Ham's senior coaching setup is unusual, if not unique at the highest level of English football.
While most Premier League clubs employ a manager who is assisted by one or two trusted lieutenants, David Moyes has surrounded himself with four senior assistants, all of whom share the same level of seniority under their boss.
The democratic environment has bred a healthy exchange of views and ideas in both the meeting rooms and training pitches at Rush Green, as well as the dressing rooms and technical areas where the Hammers have been in action since the new regime took charge in November.
For Pearce, who has been a manager for the vast majority of his 22-year coaching career, the experience has been a new and refreshing one.
"While I have managed for the majority of my coaching and managerial career, to be fair, I'm quite happy working with and for David and working for the Club.
"I've not gone in with an ego, suggesting I should make all the decisions, but the good thing is that the empowers his staff to make decisions and he wants you to make decisions and he will back those decisions. That's good leadership."
Our mentality is to deliver the best service to the players and for the football club

Stuart Pearce
Moyes himself said in a recent interview that the value of his assistants is in the different strengths they bring – an assessment Pearce agrees with.
"We're different characters in many ways. Whenever we analyse a performance or a set of circumstances, we all, because of our different experiences working at different clubs for different people, probably bring slightly different slants towards certain situations and we see different things.
"Our personalities dovetail quite nicely with one another. I've got to say, in the coaches' room our mentality is to deliver the best service to the players and for the football club. However we do that, it doesn't matter.
"Coaching sessions are led by the manager, but he is quite happy to step back and say 'You boys take it'. It took us a few weeks to find our feet and work out who gives the debriefs and who gives the presentations leading into games and all of those things.
"The longer we are in the job as a group of coaches and the longer the players work with us a little bit more, the more they will pick up and the more we will keep improving."
While the remit of Moyes and his assistants was to improve West Ham's results and position in the Premier League as quickly as possible, Pearce is also eager to work with longer-term goals in mind.
As a former player who rose from the part-time ranks to becoming the best left-back in England, he knows the value of a player spending time working on his game on the training pitch.
For West Ham's young players, and those more senior who still have improvements that can be made with a bit of fine-tuning, Pearce is looking forward to spending more time working one-to-one as the fixture list thins out in the spring.
"We've not had a great deal of actual coaching weeks, where we've had no game from Saturday to Saturday, where you can get out there and work with young players, and the seniors as well, and keep educating them. We've been a bit limited in that aspect, because of the way the games have fallen.
"To achieve the results and performances we have already got, we have used a cross-section of the classroom both leading into games and debriefing after games, to coaching sessions that hopefully give the boys a good indicator and make for an excuseless environment when we go into games.
"I've got to say, credit has to be given to the players. They have taken it on board, their work-rate is up substantially. The manager has demanded that and they have delivered.
"I think we've got to realise, as a football team, that we've still got a long way to go. What we've got to do is deliver consistent performances over a consistent period.
"A short burst of 15, 16, 17 games or whatever we've done is all well and dandy, but there is a relegation scrap which is going to go to the wire and involve 13 teams, make no mistake about that, and will involve injuries, suspensions and form, so we've got to make sure we deliver consistent performances week-in, week-out, then you keep your fingers crossed they'll achieve results."