Samir Nasri cannot wait to repay manager Manuel Pellegrini's faith in him after linking up with the Chilean once again at West Ham United. 
The Frenchman has put pen-to-paper on a deal until the end of the season with the Irons after training with Pellegrini's squad for a number of weeks, meaning the 31-year-old will once again play for the experienced South American. 
Having worked with Pellegrini at Manchester City, winning two Premier League titles, Nasri is delighted to have the chance to be a part of the manager's team; this time in Claret and Blue.
"I'm really happy that West Ham and Manuel Pellegrini have given me a chance to be playing again," Nasri told West Ham TV. "I know the manager really well. We won the Premier League title together and I'm really passionate about my job. 
"Pellegrini was the biggest factor for me to be joining West Ham. When you're a player, you want the manager to know your quality and want you because he's the one that is going to be playing the team, and knows your quality. It was really important and I'm just looking forward to it."
I'm really happy that West Ham and Manuel Pellegrini have given me a chance to be playing again.

Samir Nasri
The manager's ethos for attractive, attacking football was a crucial aspect of the City side that Nasri played in under Pellegrini, with the boss installing the same philosophy at West Ham since taking over in the summer. 
It's a style Pellegrini has utilised for the entirety of his career, and Nasri is ready to experience it once again.
He continued: "I love his philosophy and the way he thinks about football. The guy is a genius. He thinks a lot about everything and he has that mentality about football, and we share the same mentality.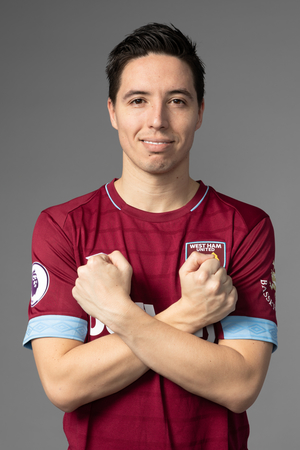 "Everywhere he went, all his teams played really good football. At Villarreal it was the case, and at Malaga as well. At Manchester City, we were the fastest team to 100 goals. He is a really good manager who plays attractive football' offensive football. I'm really happy to be playing in his team."
Nasri's move to the Hammers comes at the end of a ban for the midfielder, and the newest member of the West Ham team cannot wait to get back playing again. 
The new No18 knows he has a second chance to show his ability at the top level of football, and wants to make the opportunity count as he looks to get back to his very best.
"I'm really, really excited to step out in this beautiful stadium with these fans," Nasri added. "The competition, the dressing room, and to be back on the pitch' that's all I've been waiting for. 
"I had some really tough moments when I was really down. Mentally I'm really strong, but for maybe the first time in my life, I cried about my career because I thought it was over. I'm 31-years-old now and I'm more mature. If it was five years ago maybe I would have some problem with it or talk too much about it.
"When you've been out for a year and you think it's over, you think completely differently after that. I was just looking on TV and I wasn't able to train, and in the meantime, I had a son. A lot of things have changed in my life, and for the best. I'm really happy about it. I'm just blessed. I'm lucky to have a second chance. Not everyone in life has a second chance and I do. I know I will give 100 per cent. 
"Now I just want to focus on the positive and the good; being back on the pitch, doing what I love the most, with a good team. That's all that matters to me."