Engulfed in the sunlight streaming through the window of his office at the West Ham United Training Ground in Romford, Matt Beard was all smiles. 
For good reason, too; his West Ham team ended 2018 with four straight wins, which moved the Hammers up to sixth in the FA Women's Super League and also sent the side into the quarter-finals of the Continental Tyres Cup, where a match with Championship side Manchester United awaits. 
In those games, the Hammers scored ten goals and kept four clean-sheets. 
"December has been a great month," the women's head coach said. "When the fixtures came out in the summer, we identified that this run at the end of 2018 would be really important for us, and I was confident that, by the time we got to this stage of the season, we would be a in good place to take points from these games. 
"The girls deserve the credit for it. We've had a number of injuries to contend with across our team, which has been frustrating. We've pushed through though, and everyone involved deserves praise for where we are."
December has been a great month. The girls deserve the credit for it.

Matt Beard
A 2-0 win over Bristol City at the end of November was followed by a 1-0 result away to Brighton & Hove Albion. Both wins were hard fought, and followed by a 5-0 demolition of Yeovil City Ladies away.
Beard believes it is no coincidence that these results are coming after the players have had time to build their understanding on the pitch. 
"We've had some consistency in our team which has allowed relationships to build," Beard continued. "I think what's been really important in recent weeks is that we are seeing our attacking players develop understandings with each other. The likes of Jane Ross, Alisha Lehmann, Julia Simic, and others are seeing the fruits of their work on the training pitch.
"We've been able to create chances in every game we've played, but recently we've been a lot more clinical. Players are arriving in the right places, at the right time, and that is down to the efforts on the training field. 
"Everything is falling into place for us, and that's simply because of the hard work we've been putting in over the last few weeks and months."
Having battled to come to grips with the newly restructured top flight of women's football, after moving up from the Women's Premier League Southern Division, it's safe to say the team finds themselves in a good position after the first half of the 2018/19 campaign.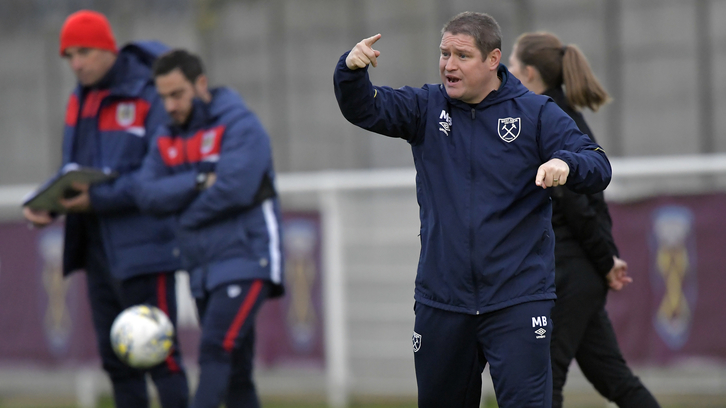 Five league wins have the side battling among established WSL teams, something Beard thinks can't be understated, given that a whole new team has been built by the Irons. 
He continued: "Right now, we are two points off of Reading Women, who finished fourth in this league last season. We're also through to the quarter-finals in the Continental Tyres Cup, and that's with a team that was only put together at the start of the season. 
"I think it's easy to forget that we've not come up just one division, but this club jumped two divisions to be in the WSL. 
"We've got a great mix of youth and experience in this team, and we've also got a host of players who are playing in England for the first time, and are learning about the football culture here. All in, with everything taken into consideration, I think what we've done so far is remarkable."
It has not just been the players to new to England who have endured a learning curve so far this season. Even Beard himself acknowledges that he is still learning new things about himself and his team. 
"I probably have got to take responsibility for some of the defeats so far this season," he admitted. "Because of some of the injuries we've had, we were tinkering with the team, trying to find that right balance. 
"Different players bring different strengths. For example, Lucienne Reichardt is a holding midfield player who is going to win tackles, and we lost her for a huge chunk of that first three months. We would try different players in different roles, and sometimes that doesn't work."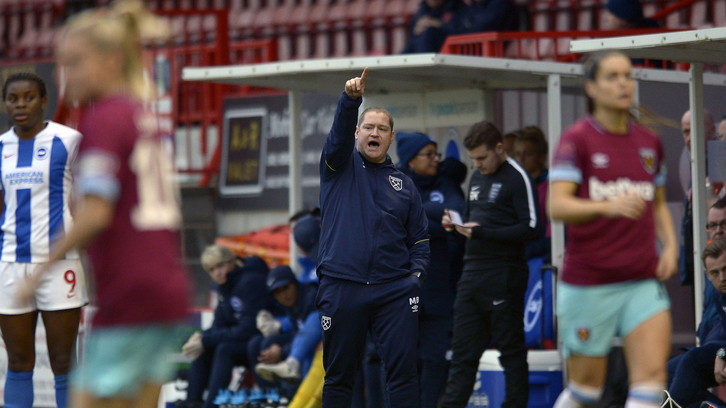 Reichardt was not the only player to suffer with an injury in the first half of the 2017/18 season. Claire Rafferty battled against a knock, while fellow defender Brooke Hendrix sustained two broken noses and a concussion. 
The likes of Erin Simon, Leanne Kiernan, Julia Simic, Esmee De Graaf and Tessel Middag have also been missing at different points for the Irons, something Beard admitted was hard felt because of a smaller squad. 
However, the Irons coach says the team atmosphere and closeness in the squad is one of the best he has ever seen. 
"I've always said this is probably one of the best groups I have ever worked with. No matter what goes on, they've got each other's back and they work as hard as they can for each other. 
"They also enjoy what they are doing, and enjoy being with each other and that's half the battle in team sport. If you have that, then no matter what goes on your going to be successful."
The win over Charlton Athletic was the start of a three-week period without a game for the Hammers, but Beard says the team will not rest as they prepare for a first match of 2019, at home to Arsenal. 
He added: "The girls will have a little time to go home to their families over Christmas, but then they will be straight back into training and then we start to focus on Arsenal. 
"We want to continue with the great work that we've been doing. The players that need the opportunity to do some other work will have that chance.
"We're really excited for what 2019 holds."