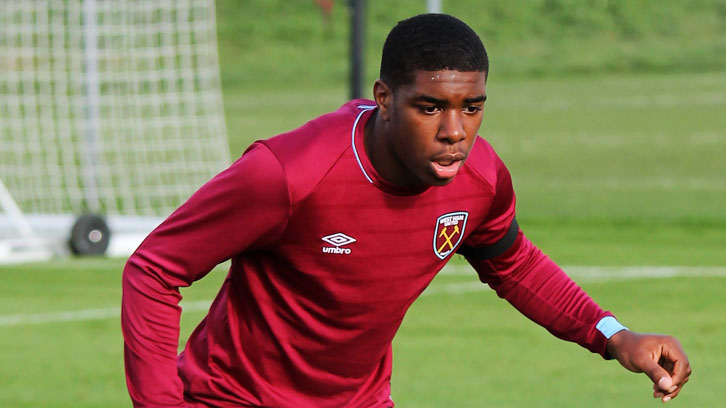 It was just a normal Friday morning at school, or so West Ham United defender Jayden Fevrier thought.
It did not feel quite so normal, however, when the youngster's teacher informed him of his new club record.
"At that moment when my teacher told me, it just felt so surreal," says Fevrier, as he describes the moment he learned he had become the youngest ever player to be fielded by West Ham's reserve team, breaking a record previously set by currently club captain Mark Noble in February 2003.
"To take the record from him is amazing. He's an icon at the West Ham and it's really an honour."
When I got home I just felt very honoured because I could go and tell all my family. I love making them proud

Jayden Fevrier
'Him', of course, is Mark Noble. Almost 16 years ago, the skipper turned out for the club's reserves against Leicester City aged just 15 years, eight months and 27 days.
And in October, against the very same opposition, Fevrier was introduced with nine minutes remaining in the U23s' Premier League 2 fixture, beating the record aged 15 years, six months and 12 days.
West Ham went on to lose that match 3-0, but it was still an unforgettable moment for the teenager who had just become part of Hammers history.
"When I got home I just felt very honoured because I could go and tell all my family. I love making them proud," he continues.
"The U23s have been very supportive and they made that moment easier for me. It was a great experience for me to be in that environment and it's really helped me to grow as a player and find confidence in myself."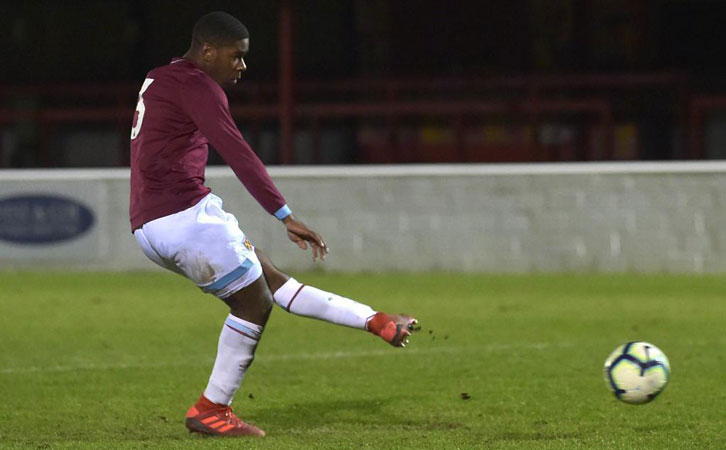 Fevrier gained his U23 call-up having impressed for the U18s in a number of matches he has featured in this campaign and last under the guidance of coach and former Academy graduate Jack Collison.
"I am really enjoying playing in the U18s team this season because I am constantly surrounded by players who are better than me and I continue to learn from them and improve," he explains.
"Jack Collison helps me enjoy it a lot because he always motivates me and he knows what it's like to play at the top level. I feel like he really believes in me.
"We've had a lot of success in terms of the players going upwards. Amadou Diallo has started and scored for the U23s; he has done outstanding this season and I am very close with him. 
"He always helps me to improve and get better and he is also very humble and respectful. We are all very proud of him and how well he's doing at the moment and we all want to achieve similar things."
There is no shortage of examples to look to at the Academy when the likes of Fevrier and his teammates are searching for inspiration. 
"Dec [Rice] and Grady [Diangana] are excellent role models for us because they work relentlessly," the 15-year-old says. "They are excellent people on and off the pitch and it's good to have people like them at the club because they have all come through the Academy so it gives belief to us young players that we can do it as well."
And though Fevrier may have now taken one West Ham record from Noble, the club captain holds many more that, one day, the youngster would dearly love to break.