Community
Academy bring Christmas joy to St. Clare Hospice
Members of the West Ham United U23s team gave their time and money to bring some festive cheer to St. Clare Hospice in Hastingwood. 
Liam Manning and Steve Potts' U23 Academy side performed maintenance tasks around the hospice, delighted patients by joining in with Christmas Carol signing, and also made a generous donation of £1,000 from the team. 
Winger Dan Kemp was happy to get involved in the activities at St Clare Hospice and knows how important it is, as a footballer, to be involved in the community. 
"When you're caught up in football, sometimes it's easy to not really be in the real world," he admitted. "It's important to remember that there are less fortunate people out there and we want to do anything we can do to help them.
"I've personally never been to a hospice before so it's been really interesting to come and get involved, and help out. We don't want to just be good, young footballers, but we want to be the best people we can be as well."
Sarah Thompson, Chief Executive of St Clare Hospice, was delighted to welcome West Ham United to the Inpatient Unit and Day Centre, with the players spreading Christmas joy among patients and staff.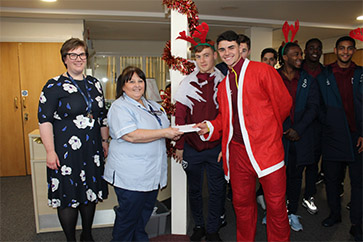 "It's brilliant that West Ham have come here and I hope we can welcome the lads back again, she said. "It's lovely to know that the team want to support in the community.
"We have really enjoyed having the players with us. They added real quality to the singing, and they helped out around the hospice too. I think our patients enjoyed having them here with us, and their generous £1,000 donation is very gratefully received."
In addition to the 20 players that helped out around the hospice, another five visited the charity shop in Harlow, helping to sort out donated items which could then be sold, raising further funds. 
Manning believe it is of vital importance to his players' development that they continue to be involved in helping out in the local community, saying that the West Ham Academy is committed to building reputable individuals as well as talented footballers. 
The U23s coach said: "Football plays a big part in everyone's lives, and we're very fortunate to be in the position we are in. 
"Events like this one remind us how lucky we are. The lads we have are really good characters and they're grounded. They're up for helping out and getting involved in the singing. I've got to give them credit; they have been fully up for being here today and helping out. 
"We have a duty of care to the young people we work with. Whether they remain in football or go into another industry, we have a responsibility to develop good young people."