Women
Women's team and Steve Lomas delight fans at Romford store
Women's captain Gilly Flaherty, Steve Lomas and Erin Simon met fans at the West Ham store in Romford
The women's players and Lomas posed for photo with supporters.
Claire Rafferty and Becky Spencer talk to a fan about the upcoming women's match against Arsenal.
The players took the time to speak with supporters about their journey so far.
Steve Lomas was also delighted to meet with fans in Romford.
A supporter takes a selfie with Steve Lomas.
Prizes were also available to be won in our Cyclone Cylinder challenge.
Women's managing director Jack Sullivan also stopped by to promote the team!
Members of the West Ham United women's team and former men's captain Steve Lomas met supporters at the official store in Romford on Saturday.
Lomas and the likes of women's captain Gilly Flaherty, goalkeeper Becky Spencer, and defender Claire Rafferty, took the time to sign autographs, pose for photographs, and try their ability at the Cyclone Cylinder challenge. 
Flaherty was delighted to meet the Claret and Blue faithful and hopes that even more fans will flock to Rush Green for their matches in 2019. 
"It's nice to come out and put smiles on faces," Flaherty told whufc.com. "It's great to talk to fans and I think it's good that we get out and meet the local community. 
It's great to talk to fans and I think it's good that we get out and meet the local community. I hope we see them at Rush Green in 2019.

Gilly Flaherty
"We've had a lot of people coming down. There's been young people and families, and it's been great to talk to them and tell them about what we're doing in the women's team. I hope we see them at Rush Green in 2019.
"The Cyclone Cylinder challenge was a lot harder than I thought it was going to be! There were some great prizes up for grabs here, with a half-season ticket and a trip to watch us train. I hope everyone that came down has had a great time."
Lomas also tried his hand at the Cyclone Cylinder challenge and was thrilled to be involved in Saturday's event. 
The former midfielder said: "Romford is the heartland of West Ham United. Parents engrain it into their children that they can only be West Ham, and these events are great for those young fans to come get involved."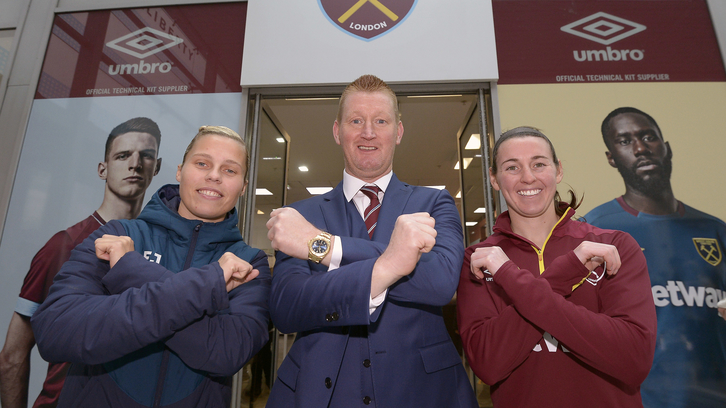 Lomas also believed that the involvement of players from the women's team would only further interest in the Women's Super League side. 
"It's great to see members of the women's team here. They've been playing really well and won against Charlton in the week. These sorts of events will only increase the exposure for them, which is fantastic."
Defender Rafferty was also thrilled to meet supporters at in Romford, and has been impressed with the level of support the Hammers receive since she joined the club from Chelsea. 
Rafferty said: "There's a great buzz in the area and I have never seen an area so dominated by one team. This is West Ham's catchment area and we really want to work with that, and hopefully we can persuade as many fans as possible to come to our games. 
"Everyone has been willing to get involved today, and I hope everyone has had a great time. We have!"