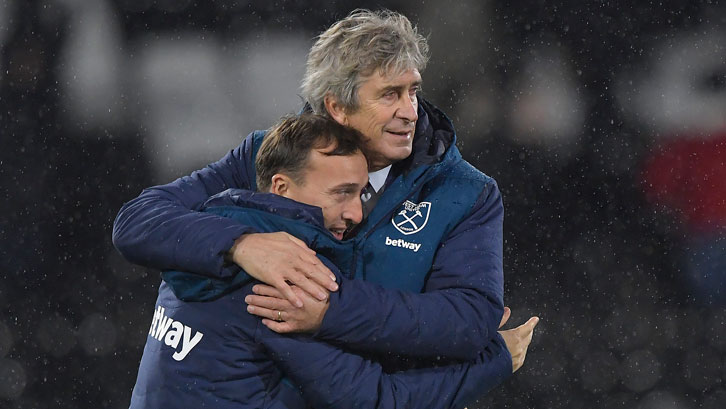 Manuel Pellegrini is enjoying his relationship with the Claret and Blue Army as his West Ham United team continue to climb the Premier League table.
The Hammers are up to ninth after notching their fourth top-flight victory in a row, 2-0 at Fulham on Saturday, and their ambitious and historically successful manager is eyeing European qualification.
With his team playing attacking, entertaining and winning football, the club's supporters showed their support for Pellegrini by singing the Chilean's name at Craven Cottage.
"One of the things that I am very happy about in career as a manager is that, in every team I managed before, I had a good name with the fans – in Villarreal, in Malaga, in Manchester City, everywhere – so I am very happy that the fans are enjoying what we are doing here, also," he smiled.
Not only does Pellegrini enjoy the support of West Ham fans, but he also has the total buy-in of his players, who are performing at a very high level.
After losing their opening four matches as they adapted to the new manager's methods, the Hammers have hit their stride, losing just three out of 13 and collecting 24 points in the process. 
"I think that the players always believed from the first game in what we were doing," Pellegrini observed. "During the pre-season we were working in one way and even when we didn't have the results, we continued talking exactly the same and working the same way, so I never felt that they had any doubt in the worst moment. Now, with good results, of course the trust increases."
I am happy with the squad more than with individual players, particularly as we are in this position in the table after starting the season with no points from the first four games

Manuel Pellegrini
It has been West Ham's attacking players who have dominated the headlines in recent weeks, but on Saturday it was the defence which stood firm in the face of a determined Fulham side.
Goalkeeper Lukasz Fabianski made a series of super saves, while centre-backs Fabian Balbuena and Issa Diop were at their resilient best to help the Hammers secure back-to-back away wins and a third Premier League clean sheet of the season.
"I think that they are two very important players and they needed to know what the Premier League is before they started putting in good performances," the manager explained. "They must continue to improve because they are top players and that is the same for every member of the squad.
"Issa Diop is a very young player, but he is an international player. Fabian Balbuena came from South America, but he played for one of the biggest teams in Brazil, so he is used to playing the way I want to play, with his back not so covered and with space behind them.
"I'm very happy with both of them, but I am happy with the squad more than with individual players, particularly as we are in this position in the table after starting the season with no points from the first four games."