First Team
Pellegrini: Noble's new deal, attacking philosophy and facing Fulham
West Ham United manager Manuel Pellegrini met with members of the gathered media on Thursday afternoon ahead of the Irons' Premier League clash with Fulham. 
The Chilean opened up about Mark Noble's new contract, his attacking philosophy and taking on bottom-of-the-table Fulham. Here is what he had to say...
 
Noble's new deal is very positive
I think it's very positive for Mark Noble and for the Club that he has signed a contract until 2021. Mark is a player who has played his complete career here from when he was a young player so I think he also deserves to finish his career here, so I'm very happy for him.
He is all about this Club, so that's why, every time he talks in the dressing room, it is important for new players who have arrived to know what the Club is. He also has a role as a leader that is very important to the team.
I don't think it is good to compare him with others. Mark is a very important player here for West Ham. He has his career and in every game he demonstrates his commitment to this club.
He is a good midfielder and a good technical player. He has a good view also of the complete pitch and the personality to always ask for the ball.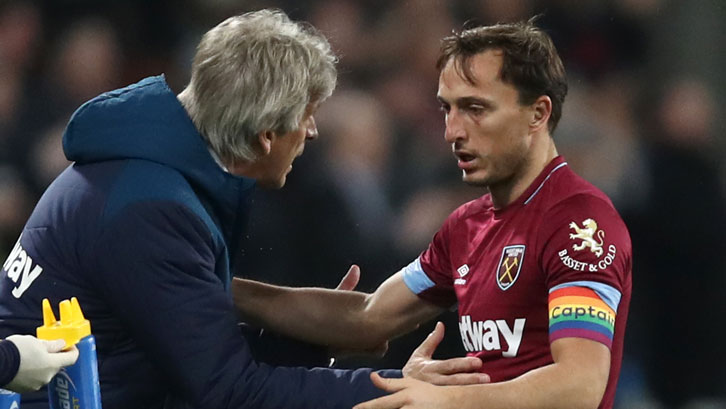 We are improving, but we cannot rest
We are improving, without any doubt. The results say that we are improving and we are scoring goals, which is not easy, especially, in this league and this season, to win three games in a row and score three goals in each game.
But we must be very careful about that because things change in football and two or three balls can quickly change the result, so we must continue working in the same way we are doing now.
In our worst moment, I always say the same. We are improving and we are in the correct way and now we must keep these good results going.
It was my mentality to try to bring an attacking approach to this club – you must try to score as many goals as you can in each game and not, because you scored one, go only in your box and try to defend.
I think the players are enjoying the way we are playing. I repeat, we must continue to be a very balanced team in both defending and attacking because all together, the more mistakes you make, the more goals you concede and the more chances you miss, the less goals you score and you are not going to win the games.
I think, overall, we are improving.
Fulham away is a difficult game
We have Fulham away on Saturday in the Premier League and it's a difficult game, as they always are in the Premier League, especially that they are bottom of the table with a new manager whose career as a manager reflects what he is, especially winning the Premier League with Leicester is not something you can do so often.
So, I hope that he will have a very successful job in Fulham after we finish this game!
Claudio Ranieri is just starting his job so you cannot make an analysis in two or three games. Every manager needs time and I hope that he improves them.
We must always think game-by-game
I was asked again if December could be an important month for our season and I have answered that question before and the most stupid thing we can do is believe that, because you are playing against teams who are at the bottom of the table, it will be easy.
We need to play against all these teams away in their own stadium and they need to win points, especially the teams who are in the relegation zone, so we must be very careful about that.
We must be thinking game-by-game. We are playing against Fulham and going after three more important points, so I hope we can do a good job and play a good game.