Interviews
Rice: It always looks like we're going to score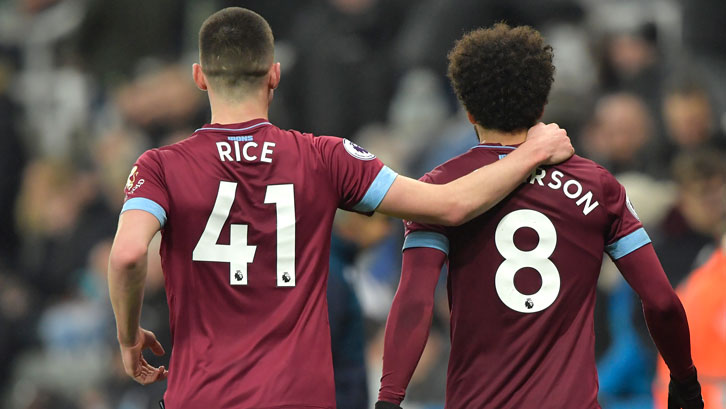 Still a month shy of his 20th birthday, Declan Rice has already established himself as a vital member of the West Ham United team.
The outstanding youngster is closing in on 50 first-team appearances in Claret and Blue, having featured regularly under three different managers – Slaven Bilic, David Moyes and now Manuel Pellegrini.
With a maturity, composure and ability that bely his tender years, Rice is undoubtedly one of the Premier League's most talented teenagers – something he is rightly proud of.
We've got to be on our game on Tuesday night and if we win, we get to 18 points and it's a massive chance to move up the table

Declan Rice
"I've had to prove myself to three managers," said the No41, who produced a superb all-round performance in Saturday's 3-0 Premier League win at Newcastle United. "I had to prove myself to Slav, who brought me off here last year and it probably set me up for the season.
"Moyesy came in and people thought he would go with more experience, but I worked hard again and got in the team and it's the same with the manager here now.
"That's my mentality and to be playing in the team as I am at 19 and closing in on 50 appearances now – I'm up to 46 – is something I'm very proud of."
Something else Rice is rightly proud of is being part of a West Ham side who play and think like a big team, passing the ball confidently along the ground and creating chances against every opponent.
While the Irons might kick-off Tuesday's home game against Cardiff City in the bottom half of the Premier League table, the young central defensive midfielder is confident West Ham will be rewarded for their enterprising approach sooner rather than later.
"If you think of the points we've missed out on this year – Leicester away, Bournemouth at home when we were in a winning position, Wolves – we could be so much higher in the table.
"But we're playing well every week and it always looks like we're going to score, whether it goes one way and we lose or the other way and we win.
"We got three points on Saturday at Newcastle, which was a place where we hadn't won much for a long time, so that was special, and we want to win again on Tuesday."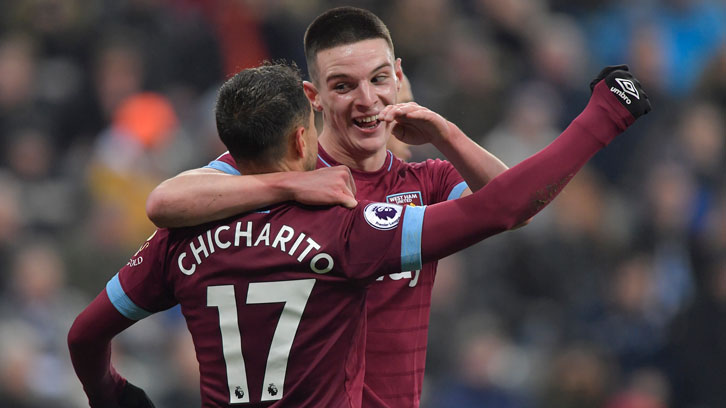 To win again tonight and make it back-to-back victories in the Premier League for the first time in nearly two years, West Ham need to overcome a Cardiff side who play a more direct brand of football than any other top-flight side.
Rice is aware of that and says the Hammers need to be resilient in the face of the threat posed by Neil Warnock's team.
"The main thing with Cardiff is they are strong on set pieces," he observed. "They put it in the box from everywhere – from throw-ins, from the halfway line – and that's what they do. They play to their strengths.
"You saw on Friday night that they scored from a volley inside the box and then a second one where they threw it in and it dropped to them and they scored.
"We've got to be on our game on Tuesday night and if we win, we get to 18 points and it's a massive chance to move up the table."