Pride of Irons, West Ham United's LGBT supporters' group, is proudly supporting the Stonewall Rainbow Laces campaign.
Now 250-strong, Pride of Irons was formed in 2014 and has since grown into one of the Hammers' largest and most active fan groups.
Prior to the Premier League visit of Manchester City to London Stadium and ahead of the 2018 Rainbow Laces weeks of action, Pride of Irons founder and co-chair Jim Dolan and treasurer Alastair Holmes gave a presentation to the club's Supporter Liaison Officers (SLOs) to make them aware of the group's valuable work, and give them guidance on how to act when they are made aware of a homophobic incident in or around London Stadium.
We want to raise awareness of LGBT issues to make it comfortable for LGBT supporters to come along to West Ham games, have fun, enjoy themselves and support the club

Pride of Irons treasurer Alastair Holmes
"We've got a working relationship," Dolan explained. "This isn't about whinging people saying 'We want this to stop', it's about people working together and we're all part of the West Ham family.
"It's just about spreading awareness. We talk about the chanting and reporting mechanisms but this is not about grassing people up or causing trouble, but it's about saying to people 'Guys, listen, this doesn't make some people feel good, especially youngsters, so let's just respect each other and be that family'.
"People are seeing each other, to take a phrase from the fans of days gone by, as 'It doesn't matter what colour you are, as you bleed Claret and Blue' and that's the message that carries on and everyone feels the same way about that."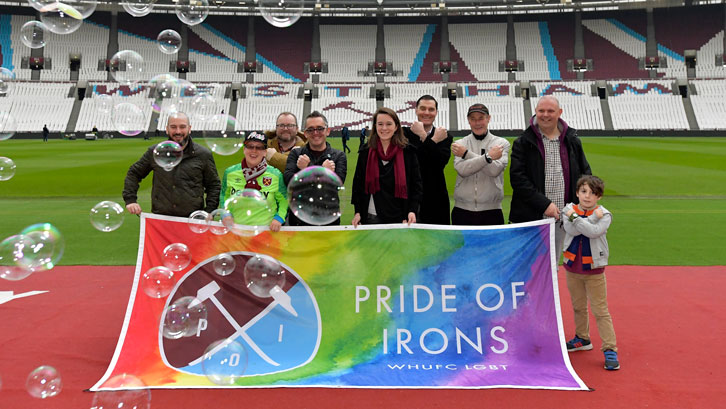 Dolan and Holmes were joined at London Stadium by their fellow Pride of Irons members Claire Sweeney, Richael O'Brien, Michael McManus and eleven-year-old Kenzie Macmillan-Hitchman, who attends West Ham matches with his two Dads.
"I really enjoyed being able to speak to the SLOs to give them our side of the story and it's great that there is so much positivity among the group as well," Holmes explained. "They really get what Pride of Irons is all about and what the Rainbow Laces campaign is all about as well.
"The whole point of why we exist is that we're West Ham fans first and foremost, but we want to raise awareness of LGBT issues to make it comfortable for LGBT supporters to come along to West Ham games, have fun, enjoy themselves and support the club.
"We see it as a two-way relationship. We've built up a very good relationship with the club and the SLOs over the years and every year we find the club are more approachable to us."
Supervisor Oluwafunmike Akande said she and her fellow SLOs enjoyed meeting Pride of Irons and look forward to making London Stadium a more comfortable environment for all supporters, regardless of their sexual orientation.
"It's about equality, people being treated fairly and equally and making sure that people are aware of certain things that happen that maybe we need to try and stamp out at the end of the day, how we report it, where we should go to and making sure that all of the SLOs are aware of what to do when they see an incident that isn't right," she said.
"If the SLOs are aware of something or something is reported to them, it's a question the line of reporting, so they have to learn who to report it to."
If you see or hear anything offensive, please report the incident to your nearest SLO or steward or call or text 07860 404069 in the strictest confidence.