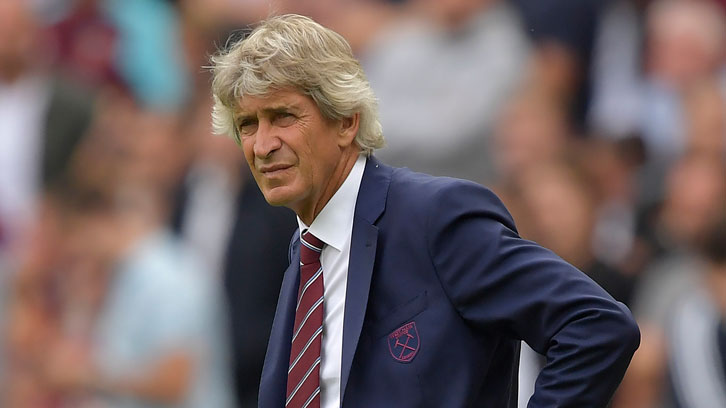 Manuel Pellegrini says West Ham United need to defend better and perform for the full 90 minutes in their next Premier League match at Arsenal.
The Hammers lost 2-1 at home to AFC Bournemouth on Saturday, meaning they have now conceded six times in their opening two games, both of which ended in defeat.
Both goals disappointed Pellegrini in the way they were conceded, the first when Callum Wilson ran from the centre circle before slotting past Lukasz Fabianski, and the second when Steve Cook lost his marker to head home from a free-kick.
"I am disappointed because we conceded four goals in the first game and two goals in the second game, so we need to defend better as a team," he began.
"I am happy because we improved a lot from the first game. It's not the same rival and not the same stadium, but we improved in trusting what we are trying to do in the first 45 minutes and if we continue to do so, we will be a very good team.
"Their first goal, they took advantage of our bad defending. It was one striker against four defenders and he arrived near to Fabianski to shoot and to score.
"The second one was a set piece and we lost our marking and they scored the their second goal.
"Seeing both teams, when they were losing they continued to play in exactly the same way because it is a team that is working for three or four years with the same players and the same manager and that's what we need to do."
I am sure that, if we can play 90 minutes as we played in the first 45, this team will be a very good team

Manuel Pellegrini
While he was not happy with the way in which his team conceded the lead given to them by Marko Arnautovic's penalty, the manager believes his team's first-half display against the Cherries is cause for optimism that his new-look squad are getting closer to getting things right.
"We knew before the start of the season that we would have a difficult start, because we have bought nine new players and because we have to play against the four big teams in the first seven rounds, but we need to continue working and continue trusting in what we do," he continued.
"I am sure that, if we can play 90 minutes as we played in the first 45, this team will be a very good team.
"In football, you never know how long it will take, but I know it takes time when you bring so many players to get to know each other. Probably the most important thing is that they recover the trust in what they are doing and play like we did in the first 45 minutes."