West Ham United women's captain Gilly Flaherty says her team will get better and better with each game after they began their FA Continental Tyres Cup campaign with a 3-1 defeat at defending champions Arsenal on Sunday.
The Hammers may have only been together as a unit since the start of pre-season, but they gave their experienced hosts a scare with a strong second half performance which saw Brianna Visalli reduce the arrears to 2-1 before Jane Ross forced a good save from Sari van Veenendaal.
Ultimately, Arsenal's strength told as they scored a game-clinching third ten minutes from the end through Katie McCabe but Flaherty was encouraged by the level of the Hammers' play.
With further cup group games to come against Lewes, Millwall and Charlton Athletic, the nine-cap England international is sure the improvements will continue to come at a real pace.
"We had a sloppy first 45 at Arsenal, but we went in and spoke about the things that were the issues and the problems and came out as a different team in the second half," she explained.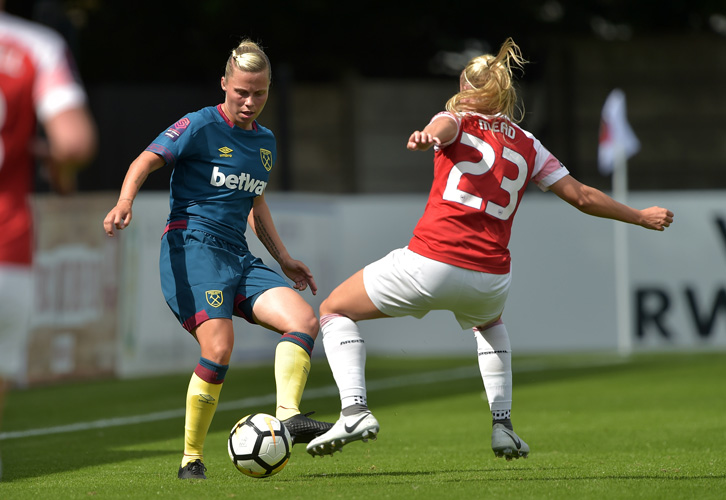 "We had a couple of chances which just fell short, or we didn't put away, but we got a goal and came back into it.
"It was a great individual goal by the Arsenal girl for the third, but we can be impressed by the second half performance.
"We've got to remember that we have only been together for six weeks. It is hard and at times it might have looked like we haven't played together for that long, we were up against an Arsenal side who have been consistently good for four, five years after the transition they had.
"It's the same team that got to the FA Cup final last year. They know each other's roles, they know how to play off each other. We will get there, it's just a matter of time, but don't judge us from the first game, let's see how it goes this season and look at where we are come the end of it.
"We are getting more of a connection with every game. Any fans or family members who came to our first pre-season match against London Bees, would have seen a completely different team to the one which played against Arsenal.
"It's how you learn the quickest – playing against the best teams in the league.