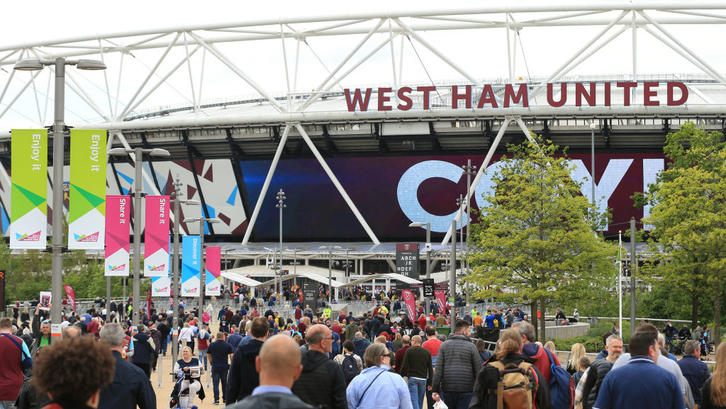 West Ham United can today provide a positive update regarding improvements to the matchday experience for our loyal supporters at the London Stadium.
The Club continues to make improvements in line with supporter feedback and more are now imminent following a recent legal ruling.
West Ham United took action to enforce the terms of its contract to secure the rights that we pay our landlord E20 for under the terms of our agreement. We did this in the best interests of our supporters to ensure the match day experience we secured on their behalf in our contract is delivered.
The Club was successful in all of four of the issues to be determined.
Over the course of this season, draught beer will be made available throughout the stadium and live sports channels will now have to be shown on the TVs in the Stadium in the hospitality areas. Issues concerning the hostesses in the hospitality suites have been resolved (in our favour) and costs wrongly invoiced and paid by the Club are to be reimbursed. The pitch surround cover will need to be replaced.
The Club has agreed that E20 and their operator LS185 can conduct a feasibility study in full consultation with West Ham United about the long-term solutions for draught beer in all lounges to ensure the offer is in keeping with the premium facilities and it's expected that this will be rolled out later this year.
The Club will keep supporters fully updated but this matter is resolved and draught beer will be installed for the benefit of our supporters.
On the issue of TV screens, E20 has been ordered to refund the fees they charged the Club previously. Compensation and payment going forward was also ordered in relation to match day hospitality hosts.
E20 will be replacing the green pitch surround at their cost with a suitable material that is a contrasting colour to the pitch. Naturally, the track cover now needs to blend in with the stadium which contractually must always look and feel like the home ground of West Ham United. The Club is in discussions with E20 Stadium LLP in this regard. The expert determination directed the parties to find a mutually acceptable solution which we hope will be settled before long.
We hope these changes will improve our supporters match day experience in the coming season

Vice-Chairman Karren Brady
Vice-Chairman Karren Brady said: "This is a victory for common sense. We did not want to start this legal action but felt obliged to do so to offer our supporters the services we had promised them, which they deserve and we had been in dialogue with our landlord over for two years without resolution. Following the expert's determination, we feel vindicated, albeit we are disappointed that the expert needed to become involved at all.
"We hope these changes will improve our supporters match day experience in the coming season."
She added: ''We are committed to implementing the expert determination and we expect E20 to do likewise. Sensibly, the expert determined that some of the finer details should be finalised between E20 and the club and we fully expect that E20 will play its part in upholding both the letter and the spirit of the legal ruling.
"We seek cooperation and collaboration with our landlord at all times, but if we are being denied what is our entitlement, we sometimes have to take steps to secure what is ours under contract. We will continue to do so, if necessary, but we hope that all parties can heed the lessons to be taken from this process and work together to achieve win-win outcomes.
"We have made some proposals to E20 which we consider to be fair and reasonable. We expect that these will be seen as a generous offer of compromise in all the circumstances."
Ahead of our opening home Premier League fixture of the season against Bournemouth on Saturday, we are also delighted to confirm that a range of new enhancements to the look and feel of London Stadium have been carried out over the summer, ensuring that the matchday experience for all Hammers fans continues to improve.
Following the reveal of several concourse artworks towards the end of last season, paying tribute to the history and heritage of West Ham United, eight further new designs have been added ahead of Saturday's big kick-off. The theme of these designs, voted for by Hammers fans via whufc.com, include classic shirts, Hammers in Europe, FA Cup, War Time Hammers, Bobby Moore's career and the Thames Ironworks story.
The installation of heritage pennants outside London Stadium. Following a vote among supporters on whufc.com, 15 memorable moments in West Ham's history have been displayed on lamp post banners on the podium level around the stadium.
Further catering kiosk upgrades, including the completion of shelving for drinks in all areas of the stadium concourses and new and improved signage.
 
Completion of the latest installation phase at Champions Place, meaning that hundreds of Hammers fans will become a permanent part of West Ham United history, with their specially-engraved granite stones laid alongside those already in place at the north-east corner of London Stadium on Queen Elizabeth Olympic Park.