West Ham United and Lycamobile have extended their successful Official Partnership.
The Hammers initially teamed up with the east London-based mobile virtual network operator –  the largest global provider of low-cost international mobile calls with more than 15 million customers across 22 countries – in 2012.
Since then, Lycamobile have worked closely with the West Ham United Foundation to provide opportunities to thousands of young people, most notably with the launch of the annual Lycamobile Cup, which allows local schoolchildren to play in the shadow of London Stadium on the London Marathon Community Pitch.
To mark the extension of the partnership, Joint-Chairman David Gold, Vice-Chairman Karren Brady and players Adrian, Andriy Yarmolenko and Pablo Zabaleta joined Lycamobile Founder and Chairman Subaskaran Allirajah at Lycamobile's Bella Cosa restaurant in Canary Wharf.
"This is a partnership but is really a relationship because everything that Lycamobile stands for, West Ham stands for and we are really proud of this relationship," said the Vice-Chairman.
"When we think about the sort of partners we want to be in business with, we think about the culture of West Ham and the things we hold dear, energy, innovation, determination and the ability to stand out from the crowd, and I think these are things we both have in common and that is why this relationship works so very well indeed.
"And this is nowhere more apparent than the Lycamobile Cup tournament, which is a huge part of our Foundation's work, with 4,000 young people from the local community taking part every year."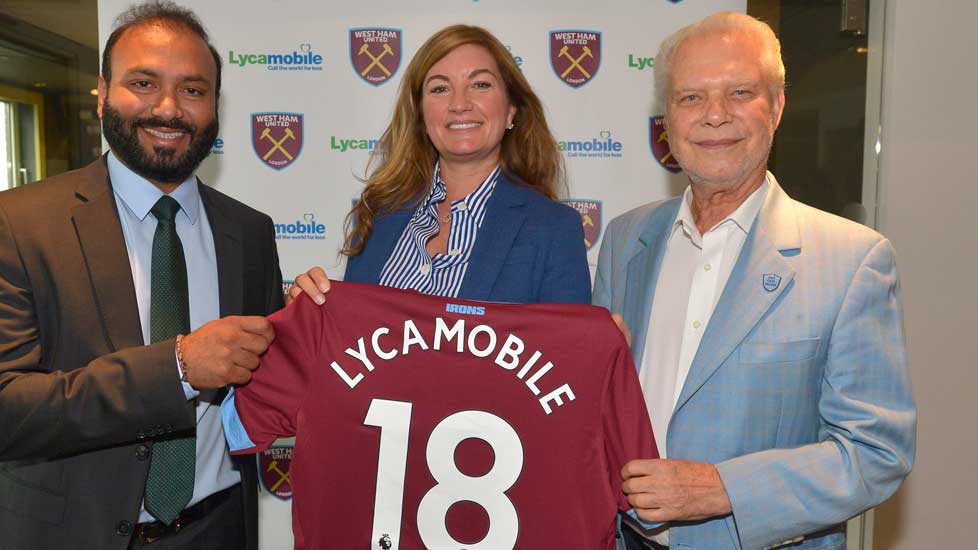 Karim Virani, West Ham United's Commercial and Digital Director, added: "We are extremely fortunate to have a partner like Lycamobile with us at our football club. Their support and drive to continually deliver an amazing experience for the local community through the Lycamobile Cup shows exactly how impactful a partnership can be.
"With huge plans to continually evolve and develop the Lycamobile Cup to come, it's going to be an extremely exciting time for our club and Lycamobile's partnership."
Mohammed Malique, Lycamobile Group General Counsel, said: "When it was based at the Boleyn Ground, West Ham had a long association with Green Street in Upton Park and Green Street is at the heart of Lycamobile as one of the first areas where the we established ourselves.
"When we came to choose a football team to sponsor, we wanted a competitor, someone who is resilient and considered the underdog, but who will always succeed at the end, so it means a lot for us to support our local team, West Ham.
"It is a privilege to renew our partnership between Lycamobile and West Ham."
Kerry Downes, West Ham United Foundation Head of Community, said: "The Foundation are so proud of being part of this relationship. The Lycamobile Cup is embedded in the community and changes a lot of people's lives. The young people who we work with look forward to this tournament every year.
"We know that young people come through the tournament and their self-esteem is built and they have lots of opportunities to work with people they might not otherwise meet in their everyday lives. These are opportunities that we know make a difference to their lives and development.
"We are excited about how the partnership will develop and we look forward to working with Lycamobile in the future."