Manuel Pellegrini says his West Ham United team will not allow Sunday's 4-0 defeat at Liverpool to get them down.
The Hammers headed to Anfield with optimism after introducing nine new signings to their ranks but were unable to stop Mo Salah, Sadio Mane and Daniel Sturridge from scoring the goals which kept the points on Merseyside.
Liverpool led through Salah's goal as the interval approached and Pellegrini felt the timing of the home side's second, moments before the half-time whistle, decided the contest.
Sadio Mane knocked home from James Milner's cut-back and the West Ham boss explained that was a huge blow for his team.
We are not happy, of course, when we lose 4-0, but we are sure we are going the correct way

Manuel Pellegrini
"We knew before the game that it was going to be a tough start. Liverpool are a solid team, with good players," he said.
"I recognise that Liverpool were the better team today, but when the score was 1-0, we had two or three opportunities to level, but in the last seconds of the first half they score and at the end of a half where it could have been 1-1, it was 2-0.
"The second goal was a blow psychologically for us, as it's such a difference to come in at half-time 1-0 down instead of 2-0.
"Then at the start of the second half it's a clear offside goal and that decides it [at 3-0], but I must be clear we need to improve, Liverpool played better than us and deserved the win."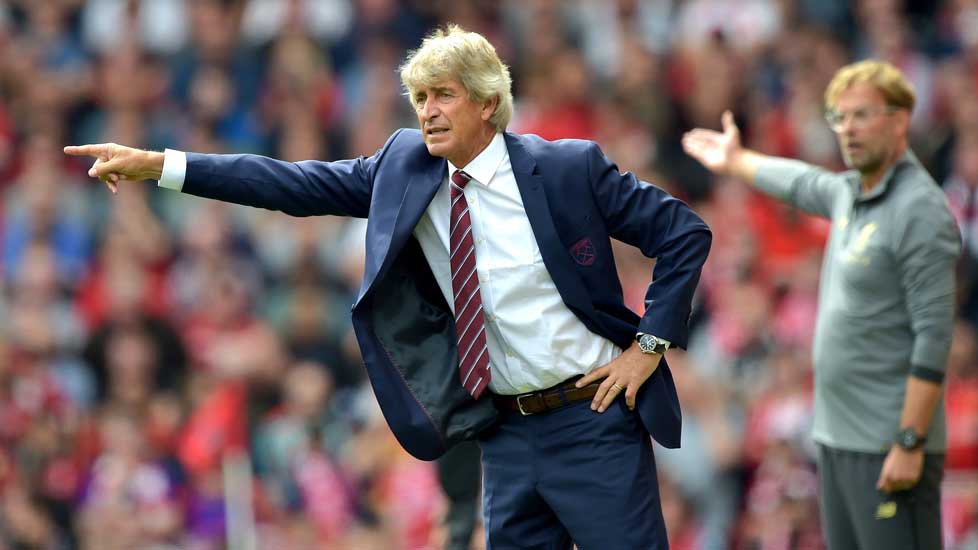 West Ham could not have had a more testing start to the campaign, being paired with the UEFA Champions League runners-up on the opening weekend, so Pellegrini says Sunday's loss should not derail the good work he saw during pre-season.
His side welcome AFC Bournemouth to London Stadium next weekend and he is confident they will be able to bounce back.
He added: "Of course we are positive for the season ahead. This is the first game of the season, we have nine new players and we played one of the best teams in the Premier League.
"We are not happy, of course, when we lose 4-0, but we are sure we are going the correct way.
"We need to work during the week and try to win the three points in our first game at home. We need to see the good things we did and improve, especially when we attack.