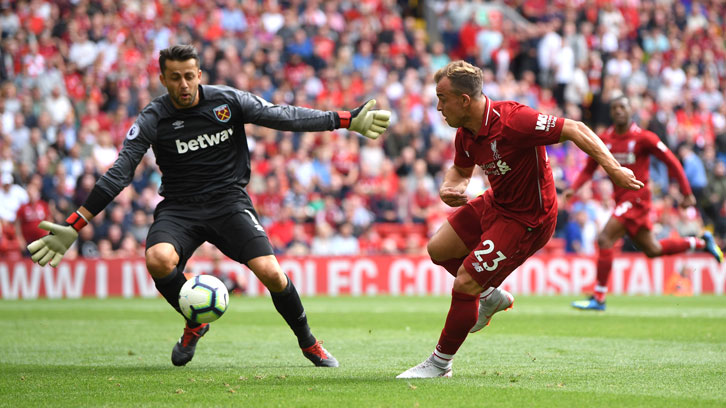 Lukasz Fabianski admitted West Ham United had been beaten by the better team at Liverpool on Sunday.
Debutant Fabianski picked the ball out of his net four times on his Premier League debut for the Hammers at Anfield, but the Poland goalkeeper could not be blamed for any of the goals he conceded.
Mohamed Salah and Sadio Mane both struck from no more than six yards before Mane struck a controversial third from a clearly offside position and substitute Daniel Sturridge completed the scoring with a close-range finish from a corner.
I don't think we created that many chances to get something out of the game, but I think it could have been less than four-nil

Lukasz Fabianski
"It was tough," Fabianski confirmed. "Obviously nobody likes to start the season by losing 4-0, but we knew it was going to be a very difficult place to come to play against a very strong team.
"We just have to focus on working harder now during the week to prepare for the next game and make some smart conclusions from this one."
Fabianski was among five full debutants at Anfield, while Andriy Yarmolenko was also handed his first appearance from the bench, but was West Ham's defensive display down to a lack of cohesion in Manuel Pellegrini's new-look team?
"That's a tricky question and it's hard to answer that," said the No1. "Obviously, when you sign more players, it always takes time to gel. I hope in our case it will be quicker rather than longer and we click pretty soon.
"I think we had a pretty good pre-season but it was always going to be tough playing against a side like Liverpool.
"I don't think we created that many chances to get something out of the game, but I think it could have been less than four-nil."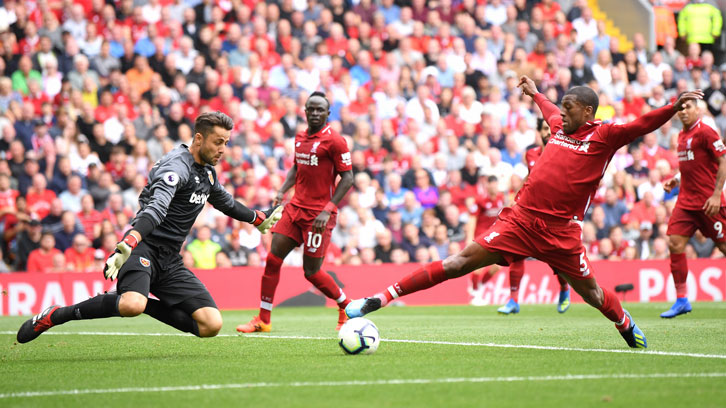 Before the game, manager Pellegrini had stated his desire to play his own game at Anfield, despite Liverpool's own considerable attacking threat.
That meant a high defensive line from the Hammers which, while it did catch the Reds offside on a number of occasions, offered the likes of Salah, Mane, Roberto Firmino and James Milner space to exploit in behind.
Liverpool took advantage by scoring their first three goals from positions beyond the West Ham back four, but did Fabianski feel this was the wrong tactic in hindsight?
"We always tried to adjust to the situation and in today's game it is a very thin line between being onside or offside. In some cases, I think they caught us and they punished us.
"The third goal was a clear offside from my point of view and it's up to the referee and assistant referees to make the right decision.
"But that's a part of the game we need to continue to work on and hopefully we are going to be doing better against Bournemouth next week."