Chicharito is feeling fit, fresh and motivated as he prepares to make his return to action for West Ham United.
The Mexico striker, who inspired his country to the Round of 16 at this summer's FIFA World Cup finals in Russia, enjoyed a holiday in the United States before returning to his home city of Guadalajara to spend time relaxing with family and friends.
The 30-year-old also kept himself in shape by doing individual fitness work, meaning he returned to the Hammers in superb condition, both physically and mentally.
After an intensive week of work on the training pitch in the Austrian town of Kitzbuhel, Chicharito is ready to make his first and only pre-season appearance against French side Angers SCO on Friday evening.
I'm very glad, very happy and very motivated and with a lot of confidence that this season is going to be a lot better

Chicharito
"I'm good, I'm very happy to be here in an unbelievable place," he smiled. "The lads told me that, when they went to Switzerland, it was great as well, so it's been a very good pre-season.
"Next week, the season is going to start, so hopefully we can get a better one compared to the last one.
"After the last season ended, I went to Spain to work with my fitness coach before the World Cup. Then, the work in the World Cup was very good and we had a very good World Cup. Unfortunately, we couldn't get further but that's football. Sometimes it cannot be like you want.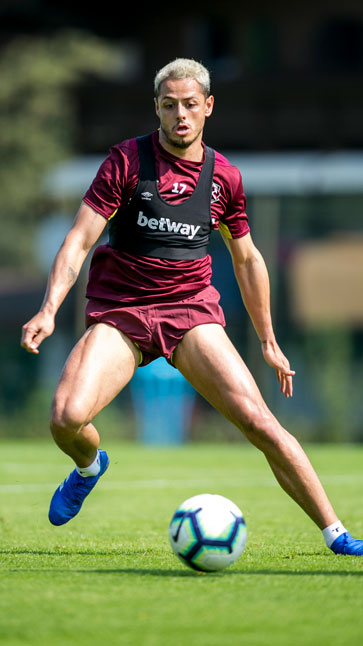 "I spent some time in Miami and then some weeks in my hometown, in Guadalajara, and the last week I was working over there.
"I feel very good. Of course, I need to improve a little bit more in fitness and in football and hopefully I can get some minutes on Friday to help me be ready for next Sunday."
For Chicharito, returning home to Guadalajara was the perfect place to recharge his batteries after a long and, at times, challenging 2017/18 season, both personally and collectively.
The centre forward started just 16 Premier League games as West Ham spent much of the campaign battling against relegation – a battle won thanks in no small part to Chicharito's eight goals.
However, after a fortnight away from the non-stop attention he attracts as a worldwide football icon, the No17 is looking fresh, focused and ready to play his part in a successful season for the Hammers. 
"It's always once per year [that I get to return home] and it's more difficult in the Premier League because there is no winter break, although next year they said there will be a winter break," he smiled, alluding to the Premier League's plans for a one-weekend break every season, starting in January 2019.
"It's very good to see my family and my friends and spend some time in my hometown and be over there. It's great to be back but of course it's better because now, in my life, I know Guadalajara is like my holiday and not my home.
"Right now, I'm living in London, so that's my home. I'm very glad, very happy and very motivated and with a lot of confidence that this season is going to be a lot better."