Boys of '86 star Tony Gale is number 35 in our #50GreatestHammers countdown, in association with our Official Investments Partner, Basset & Gold.
Gale, who spent a decade in the heart of the Hammers' defence across the 1980s and 1990s, takes a deserved place among the top 50 players to have represented the Hammers over the last 123 years.
You can read the profiles for numbers 36 and 37, Carlos Tevez here and Pat Holland here, who were revealed earlier on Thursday.
Tony Gale
Years with West Ham United: 1984-94
Appearances: 368
Goals: 7
Tony Gale played an integral role in the West Ham United team which secured the Club's best-ever league finish in the 1985/86 campaign.
Not before, nor since, has a Hammers side ended a top flight season as high as the third place John Lyall's men secured that term, and defender Gale played all 42 league games, helping his team concede less than a goal a game and come within four points of the title.
That was Gale's second season as a Hammer following a summer 1984 move from Fulham, where he had already accumulated 277 league appearances after making his debut aged just 16.
Born in Westminster in November 1959, Gale broke through at Craven Cottage after Hammers and England legend Bobby Moore retired in the mid-1970s, earning his chance in the top flight after narrowly missing out on promotion from Division Two with the Cottagers.
He immediately settled into life with the Hammers and made a formidable partnership in the centre of defence with Alvin Martin, as Lyall's side thrilled the Boleyn Ground faithful in that unforgettable 1985/86 campaign.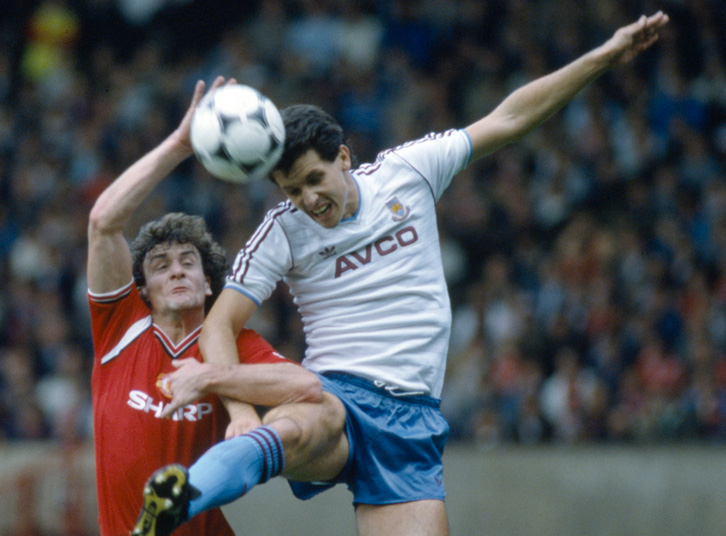 The Hammers suffered relegation in 1989, but Gale played his part in helping the team to bounce back two years later – a season in which the Hammers also reached the FA Cup semi-final only for Gale to receive an unfortunate red card from referee Keith Hackett in a defeat to Nottingham Forest.
Another promotion back to the top division followed in 1993, before Gale closed out his West Ham career by playing 32 games in the Club's inaugural Premier League campaign.
Having spent ten years in Claret and Blue and turned out for the Club on 368 occasions, he moved on to Blackburn Rovers, where he won the Premier League title in the 1994/95 season.
He ended his career with spells at Crystal Palace and Maidenhead, retiring in 1998, and Hammers fans will never forget his contribution in a Claret & Blue shirt