Toni Martinez believes he has 'great opportunity' to make his mark at West Ham United after scoring in Monday's Betway Cup win over 1. FSV Mainz.
The Spanish striker climbed off the substitutes' bench to head home Robert Snodgrass's cross before converting his penalty in the shootout success that secured the trophy for the Hammers.
And Martinez, who helped Real Valladolid win promotion to La Liga during a successful loan spell last season, is hoping for further opportunities to shine under new manager Manuel Pellegrini.
This year will be a great year for us, we are looking to finish as high as possible up the table and really enjoy our football this year

Toni Martinez
"It is good to get a win," he confirmed. "It really helps confidence during pre-season and obviously from a personal point of view I was really happy to get a goal. It was a great cross from Snoddy and I was really happy to finish the chance off.
"I am fighting for my opportunity and I will keep working hard to be given the opportunity to be involved in the first team squad.
"Last season was brilliant for me. We achieved promotion in Spain, but this year it is all about West Ham. I have a great opportunity this year to be involved with the team, which is what I have been working so hard for, for the last couple of years. I will continue that hard work and I will see where it takes me."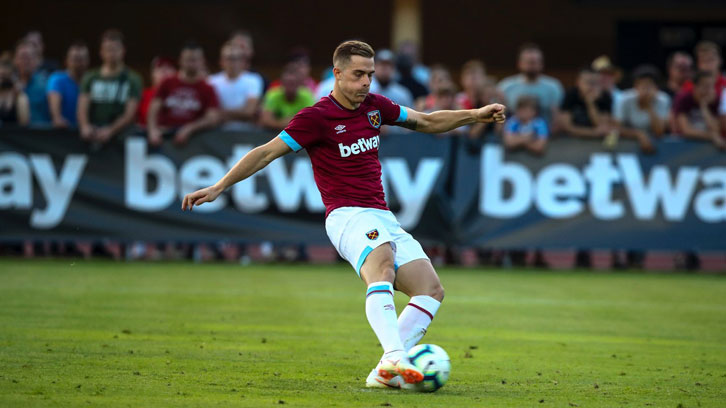 Focusing on the shootout, Martinez joked that teammate Andriy Yarmolenko had told him to chip the penalty straight down the middle like Antonin Panenka, the Czechoslovakia international who patented the move against West Germany in the 1976 UEFA European Championship final.
"Yarma was joking around with me before the penalty shootout and told me to do a 'Panenka' when I took mine, but I just wanted to make sure I scored for the team so I didn't do it!"
Having successfully fired the ball into the bottom left-hand corner, Martinez is feeling confident, both personally and collectively, that he and the Hammers can enjoy a successful 2018/19 campaign in the Premier League under Pellegrini.
"This year will be a great year for us, we are looking to finish as high as possible up the table and really enjoy our football this year."