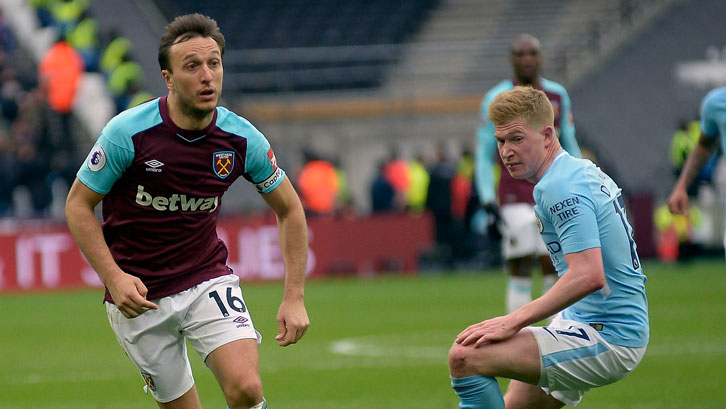 Mark Noble has played well over 300 Premier League matches, but the West Ham United believes he has never played against a team as good as Pep Guardiola's Manchester City.
The champions scored two fortunate first-half goals and two superb second-half strikes to secure a 4-1 victory over the Hammers at London Stadium on Sunday, with West Ham's consolation coming by way of Aaron Cresswell's inch-perfect free-kick on the stroke of half-time.
While he was naturally disappointed to suffer a defeat which leaves his team just three points above the relegation zone with three matches left to play, Noble was honest enough to admit West Ham had simply been outclassed.
"In all the years I've been playing in this league, they're the best team I've played against, for sure," he admitted. "There is no point in coming out and saying 'We could have done this' or 'We could have done that' because we got beat by a much better team.
"We had a go in the first half in the last 20 minutes, Cressy scored a really good free-kick and I haven't seen Marko Arnautovic's 'goal' so I don't know if it's a foul on their 'keeper but, to be honest, they were way too good.
"Congratulations to City, their players, their staff and their manager because they are champions and they are by far the best team in this league."
In all the years I've been playing in this league, they're the best team I've played against, for sure

Mark Noble
Next up for Noble and his teammates is a trip to another side that has recent experience of lifting the Premier League trophy in Leicester City.
However, the Foxes lost 5-0 at Crystal Palace on Saturday and the No16 is confident West Ham can return to winning ways and all but secure their top-flight safety at the King Power Stadium – but only if they perform to the best of their abilities and give everything for the Claret and Blue cause.
"If we'd got anything from the City game, we'd have been over the moon, but the next three games – Leicester away, Manchester United at home and Everton at home – really define our season. I think the players know that.
"We've sat in the dressing room and said there was nothing we could do about that result. We didn't want it to be 4-1 but they are that good and they've done it to a lot better teams than us this season. We will get together on Monday and get ready for Leicester away.
"If we play how we can play against a team that is 'safe' like Leicester, we can win, but we're going to have to turn up and play the best we can. We are confident we can go there and get a result, of course we are.
"We don't want to be involved in any final-day drama and, in all honesty, I don't think we will, but we have to get the points on the board. There are five teams left involved in it and I can assure you we'll have a good go."