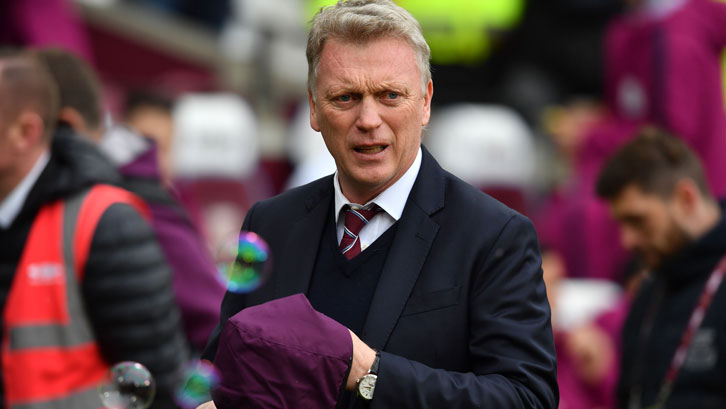 David Moyes is targeting at least one more victory from West Ham United's final three Premier League matches to secure the Hammers' top-flight status.
The Scot takes his team to mid-table Leicester City next Saturday before closing the season with back-to-back home games with Manchester United and Everton
With his side sitting three points above the relegation zone, Moyes believes three more may be enough to stay up, and says the fact two of those remaining matches will be at London Stadium is in West Ham's favour.
"I'm not as anxious as I was when I first came in because we were in the bottom three then," said the manager, speaking after Sunday's 4-1 home defeat by champions Manchester City. "The big job is to stay out of the bottom three and we've got three games to go.
"In the main, our form at London Stadium has been pretty good and up until Sunday's game, we'd won three, drawn three and lost one, so I'm hoping we can turn those last two home games into points. We'll also go to Leicester next week, so if we can turn that or one of the two home games into a win, then I think we'll be OK.
"We had a really difficult period when I came in when we had all the big teams and we're in that period now in the second round of games, facing Chelsea, Arsenal and Manchester City.
"We've got Manchester United and Everton still to come here at home and I hope that somewhere along the line, seeing as we're in relatively good form at London Stadium, that we'll get the win we need."
If we can turn Leicester or one of the two home games into a win, then I think we'll be OK

David Moyes
Reflecting further on Sunday's defeat, despite his meticulous planning, Moyes admitted that Manchester City simply had too much for his West Ham team.
The Hammers were unfortunate to concede twice to a deflection and an own-goal before half-time, but the champions dominated for long periods and added two fine team goals after the break to complete an emphatic victory.
"I think everyone is in appreciation of what Manchester City can do. I wanted to challenge them and do better than we did, so I'm disappointed overall that we didn't do better. The next time I manage against them I'll try and do something different to stop them, but it's very hard.
"They were very good. Because of the way they play, the minute you try to effect something, they'll change. Everybody will have a go at trying to beat them, but you have to have a level of quality in your team.
"Some teams will find a way of doing it, but it's been hard for just about every team in the Premier League and that's why they're runaway leaders this season."