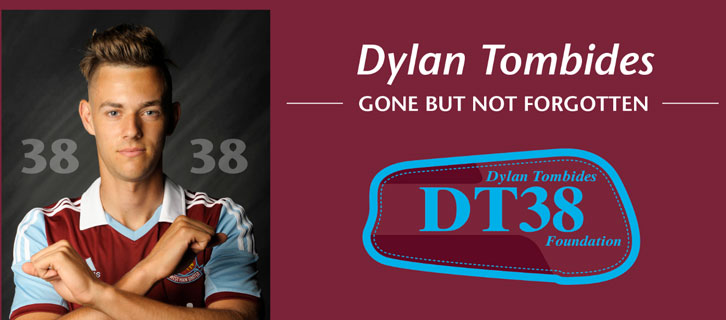 "Don't tell me the sky's the limit, when there are footprints on the moon."
That famous quote was a favourite of the late West Ham United striker Dylan Tombides, who lost his battle with testicular cancer four years ago this month.
Today's match marks the fourth annual DT38 Awareness Day and these lyrics – penned by Canadian country singer Paul Brandt – give us an insight into the mind of Dylan, who finally succumbed to the disease on 18 April 2014, aged just 20.
With cancer come intense pain, grueling treatment and life-changing uncertainty.
But throughout the struggles, the Australia U19 striker – tipped by Socceroos captain Mile Jedinak to have been playing at the FIFA World Cup finals this June, had it not been for his early death – fought on, played on and refused to lie down in the face of adversity.
It is in Dylan's memory – and because of his inspiring story – that the Tombides family launched DT38 Foundation in 2015, to raise awareness of the risks of testicular cancer.
In November, the charity will host its first DT38 White Collar Boxing Day at York Hall, Bethnal Green, to raise funds for the cause.
Applications are now open for men and women – aged 18 and over – who would like to take part in the challenge, which is being run by the world-famous Peacock Gym.
Handing out prizes on the day will be former WBC light-heavyweight champion John Conteh. Full details are available at dt38.co.uk
Dylan's mother, Tracy Tombides, the founder of DT38 Foundation, said: "This is going to be a really fun and exciting day and I cannot wait for it.
"It was originally scheduled to take place in June, but we've been forced to move it back to November for technical reasons."
DT38 is also seeking corporate sponsors for the event.
Tracy added: "I anticipate the demand for spaces will be extremely high because it offers a wonderful opportunity for willing volunteers to have a go at such an exciting sport in a safe environment, of course.
"Dylan's younger brother Taylor and Dave Sullivan Junior, the son of the Hammers Joint-Chairman David, have already signed up and there are spaces for people to come and enter the ring just for fun, there's something that most people certainly don't get to do every day.
"Seconds out, as they say."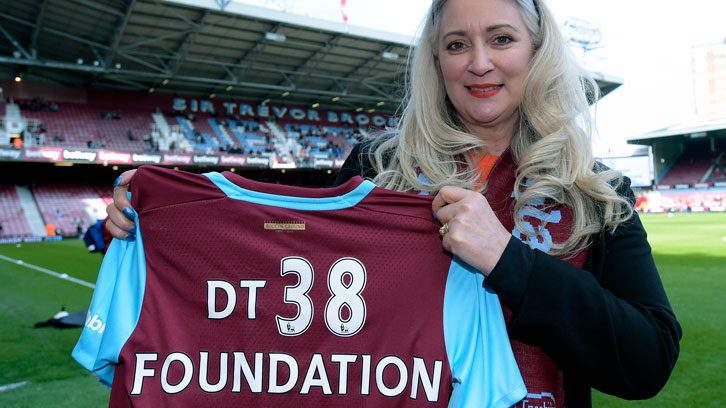 In the UK around 2,300 men are diagnosed with the testicular cancer every year, but if caught early enough, the survival rate is 98 per cent.
The charity – in partnership with West Ham United – works tirelessly to educate men about the importance of checking themselves at least once per month and seeking medical advice if they notice any changes.
Funded entirely by donations from sponsors and the general public, DT38 Foundation organises free testicular cancer scans and has teamed up with West Ham United Foundation to offer a literacy programme in schools across east London to educate young people about the importance of good health and well being.
Dylan was diagnosed with testicular cancer in 2011 but the disease was caught late because of delays by medical professionals in performing an ultrasound scan.
At the time he was representing the Joeys in the FIFA U17 World Cup in Mexico, having already began his rise through the junior ranks at West Ham.
With a determination and bravery that astounded everyone around him, Dylan continued to train harder than ever while battling the disease. 
In 2012, against all the odds and after months of grueling chemotherapy, Dylan made his first-team debut for the Hammers in a League Cup tie against Wigan Athletic.
It was to be his only senior appearance, but should have been the opening of a glittering career at the highest levels of the sport.
While Dylan may be gone, his legacy lives on.
To make an application or to discuss sponsorship opportunities for the DT38 White Collar Boxing Day email [email protected] and to find out more about the DT38 Foundation visit dt38.co.uk or follow the charity's social media channels @dylantombides on Twitter and @DT38Foundation on both Facebook and Instagram.