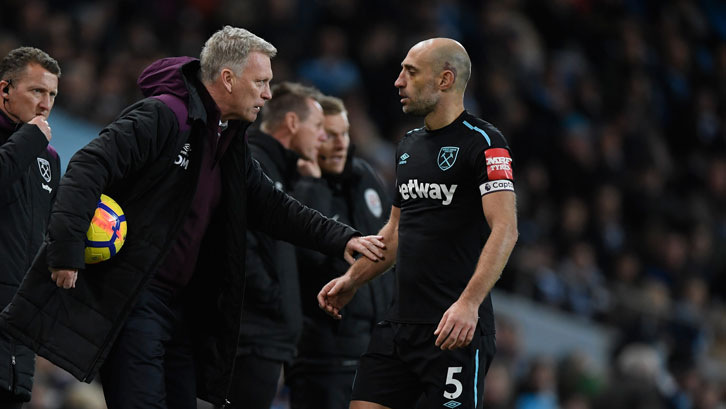 David Moyes says Pablo Zabaleta will have a huge part to play when the highly-decorated defender takes on his former club Manchester City on Sunday.
The right-back has been a success since swapping the Etihad for London Stadium last summer, playing all but one of West Ham United's 34 Premier League matches.
And the manager says the Argentinian's passion, experience and leadership will prove valuable as the Hammers try to become just the third team to defeat the champions.
"I think Pablo has improved from the first month we got here," he said, alluding to the way the defender has settled into a new team after nine years in Manchester. "He has hardly made a mistake since that period, I think he's been very, very good Zabaleta.
"He has been incredibly consistent and after the first month, six weeks, he's been incredibly consistent and maybe the change of system has helped him a little, made it so he's not been quite so isolated. But I think he's played very well.
"I don't know if he's missed a day's training since I've been here."
I think it shows what it is to be a pro and look after yourself and be ready for every game

David Moyes
Zabaleta will be particularly valuable to the younger players he lines up alongside, most notably teenage centre-half Declan Rice and Swiss midfielder Edimilson Fernandes, who has played on the right side of midfield in recent matches. 
"I think it shows what it is to be a pro and look after yourself and be ready for every game. He's maybe getting a bit long in the tooth and maybe not what he was but he's been really steady for us, apart from maybe the opening month I think he has been as consistent as any player.
"He does [take a senior pro role] and he takes it well because we talk to him about what we're doing, how it's going and I think he's improved by us making our training higher intensity, I think it's helped him.
"There's a saying that the older you get you have to train harder because the younger ones are all catching you and if you want to stay in the game you've got to be at it even harder. I think the best example you could look at is [Cristiano] Ronaldo, even though he is ageing he continues to be remarkable, keeps himself lean and hungry and wants to score.
"I think Zabaleta for us is a good role model."