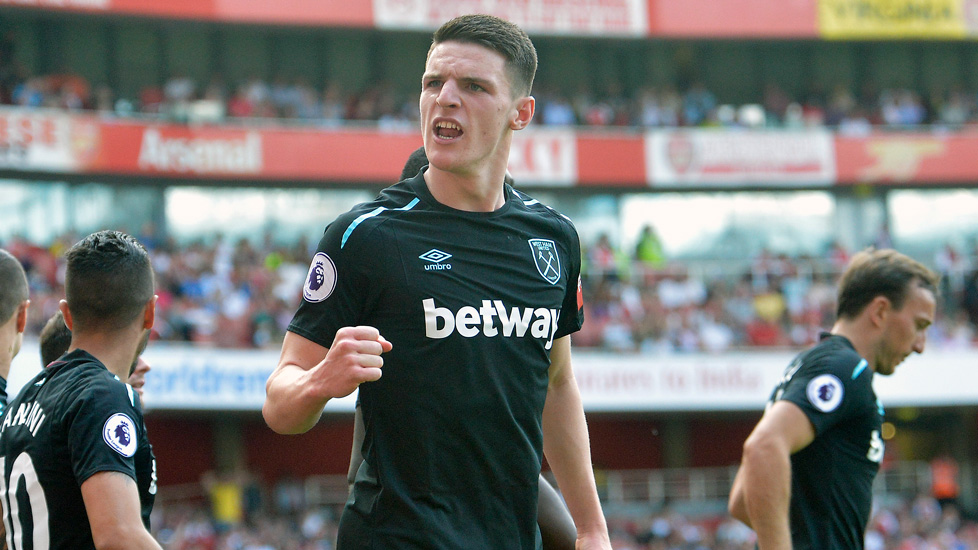 Declan Rice is ready for another examination of how far he has come in a breakthrough 2017/18 season when West Ham United take on Manchester City on Sunday.
19-year-old Rice, who this week was runner-up to Hammer of the Year Marko Arnautovic, has appeared 22 times in the top flight this term, with each game delivering different challenges to him.
Now, with newly-crowned champions City heading to E20 this weekend, Rice says he will use every drop of knowledge gleaned to help the Hammers attempt to turn the form book on its head.
He explained: "I've played in two positions this season – I've played in midfield and at the back and I've thoroughly enjoyed playing both of them.
"At the back you have to be a bit sharper, more concentrated than when you're playing in the U23s. Then, when you're playing in midfield you have no time on the ball because you're playing against world class midfielders.
"It's one or two touch and then move the ball quick, because if you don't it'll be in the back of your net. That's the thing I've learned, how to have a quick game.
I think we can take a lot of confidence from the fact that we ran them so close up there and only lost to a late goal

Declan Rice
"All the lads have really chipped in for me this season. Joe Hart has been great behind me, Noble and the older lads who have been there and done it. They know what it's all about and the manager has been excellent for me too.
"When I've made a mistake he's told me about it and rightly so, but when I've done well they've also told me that."
All-conquering City have swept aside virtually everyone they have been faced with this term, although they laboured to a 2-1 win over the Hammers at Etihad Stadium in December, and Rice says the Hammers can take heart from the way they played in Manchester as they prepare to take them on again.
He added: "I think we can take a lot of confidence from the fact that we ran them so close up there and only lost to a late goal. We can also take confidence from the way we've been playing recently.
"We were unbeaten in three before Arsenal, and yes they're champions, but we need to get out of the zone we're in and get a crucial three points.
"We need play our own game, frustrate them, get a result and move up the table. If we take the defensive side of that game at Man City into Sunday, that will be important.