David Moyes spoke to the broadcast media on Friday afternoon.
The West Ham United manager spoke about the challenge of facing Premier League champions Manchester City on Sunday – one of three of the Hammers' four remaining fixtures to be played on home turf at London Stadium.
Moyes also revealed that promising teenager Declan Rice is set to sign a new contract and called on Hammer of the Year Marko Arnautovic to find another level to his game.
There's never a good time to face Manchester City!
I don't know if there is any good time to play Manchester City, the form they are in, the players they have got available and the quality of those players, but we have to play them all twice and we will do everything we can to give them a game and make it as tough as we can. 
The objective is to try and take all the points as we are really keen to get the win to ensure our future in the Premier League.
We knew after we beat Southampton a few ago that we were going into games against some of the top teams like Arsenal and Manchester City and, like a lot of the teams at this time of the season, we all have a lot of tough games, but it's up to us to rise to the occasion and try to win them.
Our home form will be vital
It was always going to be a tough period for us, but our home form this year has been quite good so if we can try and win a couple of our three remaining home games then it'll make sure we are completely safe. 
None of the remaining games are easy, though. Our home games are hard but if we had the choice then we'd have those three games at home. Let's get the crowd behind us, who have been really good at home. I think the crowd and the players have really grown into the stadium much better. 
Since the start when I first came it feels better and in my short time here, I think we are enjoying it a bit more now so hopefully that shows in the performances and the results.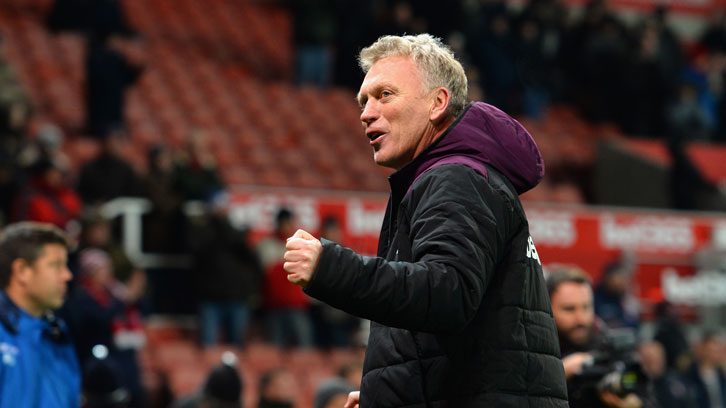 Dec to get a new contract
We are due to renew Declan Rice's contract as, if he played a certain amount of games in the Premier League, it will be due for renewal and we'll do that. We won't bother ourselves with that just now, though, as we have some important matches to play. We'll do it at the end of the season.
Dec has done very well and made good progress. I think that to be a young centre-half in the Premier League is very difficult. There aren't many clubs playing 19-year-old centre-halves so, from that point of view, he's doing great.  We are really pleased with his development and that will continue over the next couple of years. 
Being criticised when you make mistakes is part of football. You can't always be getting a pat on the back. If you make mistakes then you'll be told.
It was a poor decision to duck out of the way of Aaron Ramsey's cross at the time but it's out of the way now, we're over it, Dec accepted it as well and you hope in the long term he gets better from it.
Marko has even more in his locker 
I'm always being asked about Marko Arnautovic's form and how I have got him playing well, but I just feel that he has got another level in his locker if he wants it. He's that good.
Marko has been terrific for us and if he wants to keep that up and maintain the high standards he has set then there are ways to go about it. 
He keeps himself in good condition, is healthy, fit and focused. He's getting a bit older now at 29 so he has to be a little bit of a role model for the younger players. 
We want him to take a bigger lead. That's maybe something he's not used to but I want him to become an important member and a big player in the team.