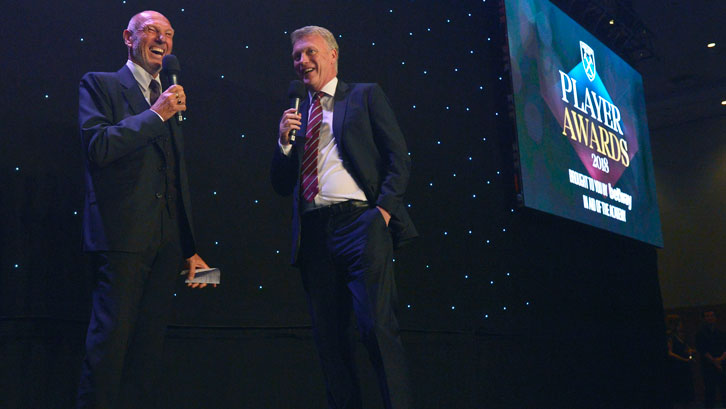 David Moyes says the support of a capacity London Stadium crowd will be vital to West Ham United's chances of beating Manchester City.
The Hammers will go into Sunday's fixture with the Premier League champions as outsiders, but manager Moyes believes the Claret and Blue Army can play a big part in the Hammers upsetting the odds.
Speaking at Wednesday's Player Awards, brought to by Betway in aid of the Academy, the Scot encouraged West Ham fans to recreate the atmosphere which inspired his team to a 3-0 home victory over Southampton at the end of March.
"On the day against Southampton, I thought the supporters were right there for us and supporters understand when they're really needed, and they understood how much they were needed on that day, just like we're going to need them in the next three home games," he told host Alvin Martin, his staff, players and 600 guests at the Intercontinental London at the O2.
"We're going to need 60,000 people helping us to make sure we get over the line and we get in the right place.
"I want my team to play much better in games and to continue to improve. We had the disappointing day against Burnley, when it affected the players, so to play as well as we did against Southampton, it showed what it meant to them and we bounced right back.
"We had a brilliant first half and I think that day was a really important day, not only for the players but also for the Club as well. From that, the players have grown as well, with more confidence and more self-belief. We're playing well at the moment and hopefully they continue to do that."
We're going to need 60,000 people helping us to make sure we get over the line

David Moyes
As a former Celtic player and Everton and Manchester United manager, Moyes has plenty of experience of working in high-pressure environments with demanding supporters.
The boss, who turned 55 on Wednesday, is relishing those surroundings as well in east London and is hoping the passion shines through again on Sunday afternoon.
"I draw comparisons to Glasgow, as Glasgow is probably similar to the East End of London in many ways, as supporters are tough, rough, know exactly what they want and let you know when it's not going well.
"When you've been in cities like Glasgow and Liverpool and at passionate football clubs, coming to West Ham, you know exactly what you're getting.
"When you used to come to Upton Park, you knew exactly what you were getting over the years and I don't think that's changed."