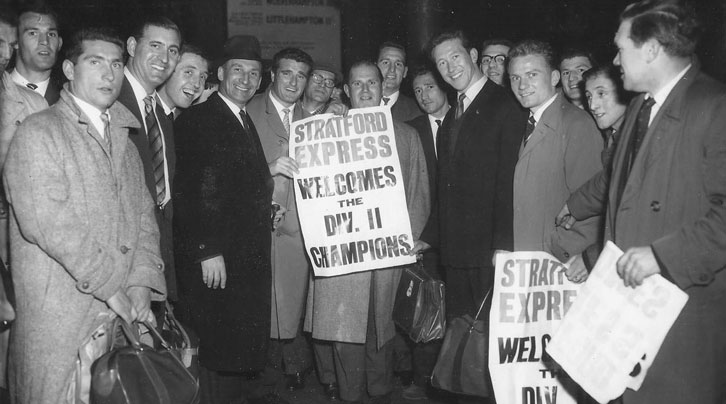 Saturday 26 April 1958 remains a pivotal date in the history of West Ham United.
Playing 250 miles away at Middlesbrough, in the final match of the season, goals from John Dick, Vic Keeble and Malcolm Musgrove sealed a 3-1 victory for Ted Fenton's team.
More importantly, the two points secured the old Second Division title for the Hammers and promotion back to the top tier of English football after 26 years.
Over 1,000 jubilant Hammers fans were packed on the platform at Kings Cross station to welcome captain Noel Cantwell and his team-mates as they stepped off their train as champions.
For Cantwell and his close friend Malcolm Allison, it was a long-awaited reward for their creative and modern approach, cooked up at Cassetari's Café on Barking Road – the origins of the famed 'Academy'.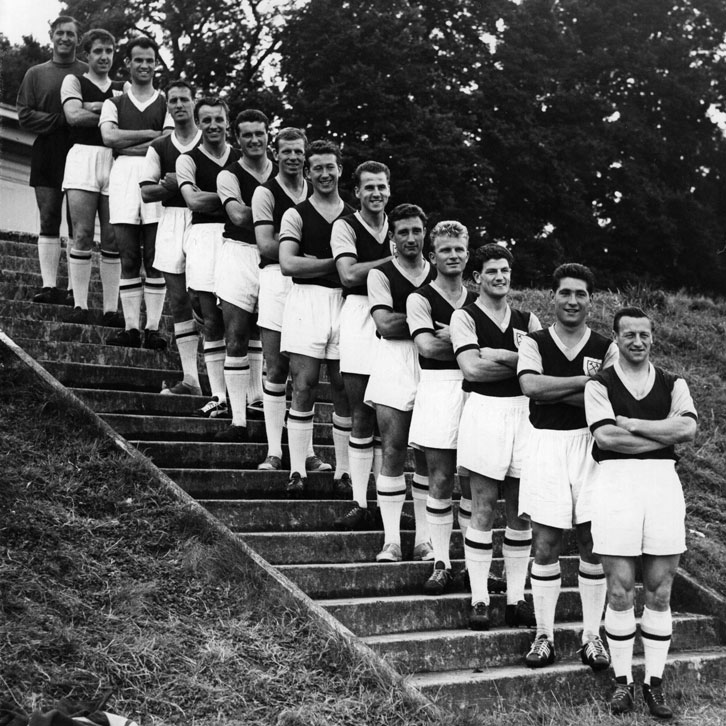 The goals for Dick and Keeble made it 50 in total from the prolific strike partnership. What made their tally even remarkable was the fact that neither had scored a league goal between them until late October!
In fact, back-up striker Billy Dare had initially been the main man in front of goal, scoring ten goals in the first ten games – five of which ended in defeat
Once Dick and Keeble clicked, however, so did the team. With the steady hands of Ernie Gregory between the sticks, a formidable back line of John Bond, Ken Brown and Cantwell ably supported by the tigerish Andy Malcolm ahead of them, and the likes of Mike Grice, John Smith and Malcolm Musgrove pulling the strings in attacking areas, the preparation of the last few years finally paid off.
Fenton's men lost just three more matches during the remainder of the season, broke the Club record for its biggest victory with an 8-0 thrashing of Rotherham United in March, and finished the campaign having netted 101 goals.
Long-serving chairman Reg Pratt said at the time: "This is, indeed, a wonderful moment for us. It is said that if you want something badly enough you'll get it in the end. We have waited for this occasion for a very long time, and now regard our present success not so much as an end but as a new beginning, a challenge, a spur to greater efforts."
Those celebratory words could not have been more prophetic, as the Club went on to enjoy their golden period of the mid 1960s, culminating in three homegrown players leading England to the greatest triumph in world football.