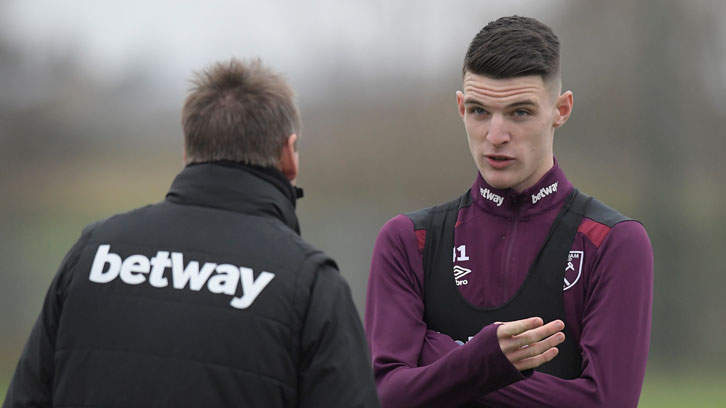 Stuart Pearce has backed Declan Rice to bounce back from the disappointment the youngster felt after Sunday's Premier League defeat at Arsenal.
Showing the maturity which has already served him so well in his short senior career, Rice has vowed to learn from the mistake he made in allowing Aaron Ramsey's cross to pass into the net for the Gunners' second goal at the Emirates Stadium.
First-team manager's assistant Pearce welcomed Rice's reaction and, on the day the Hammer of the Year will be crowned at the 2017/18 Player Awards brought to you by Betway in aid of the Academy, suggested the Irish teenager had been one of West Ham United's true standout performers during a challenging season.
When that ball flashes across our box again, Dec will be looking to put his head and feet on everything and that's the beauty of it

Stuart Pearce
"It's one of those where you have to be supportive to young players, but it's also one of those where you have to grow up very quickly because, if you're given a shirt in the Premier League, you're expected to do a man's job, even if it says you're a very young man above the door," said Pearce, who celebrated his 56th birthday on Tuesday. "Moments like that, the relevance to me is how you spring back from it and how you learn from it.
"I hark back to my career and in my second or third game at the start of my professional career [with Coventry City against Luton Town in 1983], I scored an own-goal and all of a sudden I thought 'Wowee', but it was about how I learned from it and making sure that same mistake doesn't happen again.
"When that ball flashes across our box again, Dec will be looking to put his head and feet on everything and that's the beauty of it. In general, his matchplay was very good and has been over the last month and a half, so he has to keep building on that and learning from mistakes.
"We face Manchester City on Sunday and we will be tested because we're playing against an outstanding side in this division, but that's the level you've got to attain to. There's no point setting your standards much, much lower – you've got to attain to the best team in the league and try to match them equivalently."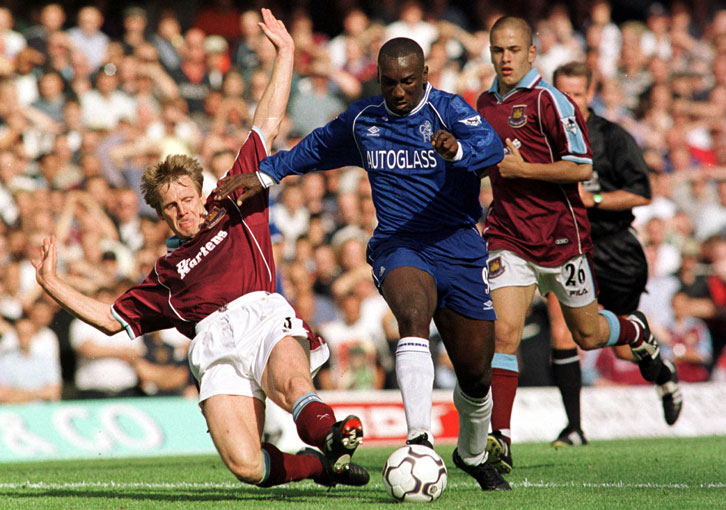 Having backed Pearce also looked ahead to Wednesday's Player Awards, which will be attended by the first-team squad and hundreds of supporters at the InterContinental London – The O2.
The former defender was crowned Hammer of the Year himself in 2000/01, when he totalled 42 appearances at the age of 38 to lead West Ham to Premier League safety.
"I was just warming up! Nobody told me couldn't play 40-odd games a season in those days. These days, they tell you that you need to rest, but I broke the mould a little bit!
"I had two fantastic seasons at this Club and got back in the England side as a 37-year-old. I then broke my shin bone and thought that was the end of my playing career, but I came back the second season and it was fantastic to be on the pitch alongside some really talented players in Paolo Di Canio, Rio Ferdinand, Michael Carrick, Joe Cole and Frank Lampard."
And whoever wins this year, Pearce says that player should be proud of his achievement.
"Over the course of a season, you can't turn around and say there haven't been some big plusses. Certainly Marko [Arnautovic] has done well, scoring goals, particularly since the new manager has come through the door.
"Declan has staked a claim at being a first-team player, so there have been some real solid performances through the group. It's right and proper we celebrate that and how well the players have done.
"It's like everything, if you don't think you've done well enough this season when everything pans out, well, learn by it and improve next year."