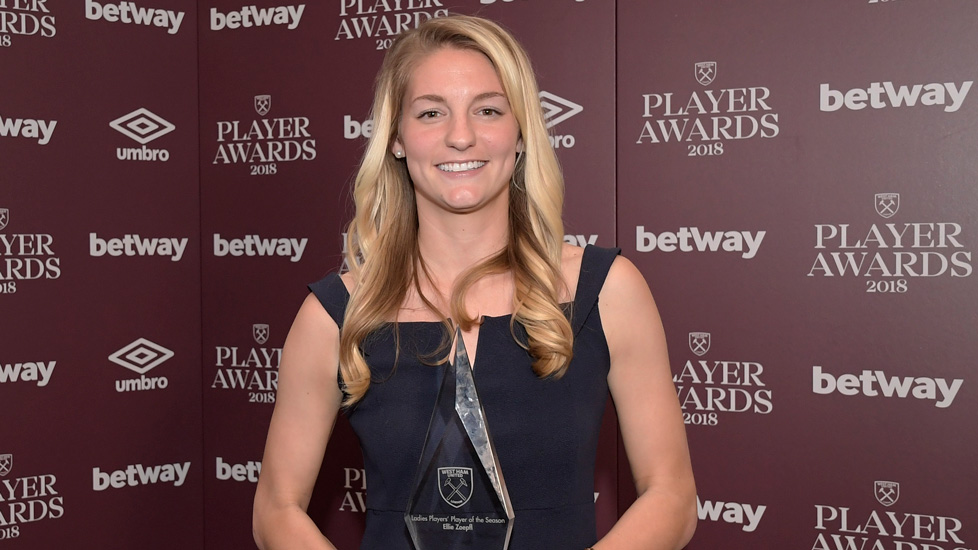 Ellie Zoepfl is the inaugural Ladies Players' Player of the Year sponsored by Spire London East Hospital.
Zoepfl has been one of the outstanding performers in a landmark campaign for the Ladies, who have lifted two trophies in recent weeks while going unbeaten in the whole of 2018 to date – a run that has stretched for 13 games.
American midfielder Zoepfl has been in unstoppable form since linking up with the Hammers in November, netting ten goals in 13 games and playing a key role in the success of Karen Ray's side.
Zoepfl was one of a number of contenders for this award, with the likes of defender Hannah Wheeler and striker Kelly Wealthall pushing her hard for the prize.
"It feels really really good to win this award, but I wouldn't be anywhere without my teammates," she said modestly.
"With the change of coaching, we've changed the attitude among the players and it has been amazing. We've won two trophies and winning is fun so it's been a really fun season.
"We don't want the season to end! We're just getting into our groove and if we had been like this at the start of the season we would have probably been at the top of the table.
This has been my first season at the Club and I appreciate everything that has been done for me. The players and coaching staff give me the confidence to play how I've been playing."
Don't miss the Ladies' season finale against QPR at Rush Green on Sunday 20 May. Admission is free for Season Ticket Holders, Claret Members and all Under-16s. Click here for more information.