Declan Rice has won the Young Hammer of the Year sponsored by Euroffice Office Supplies for the second season in a row.
Nineteen-year-old Rice has made his mark in a terrific campaign after debuting on the final day of 2016/17, building on that by appearing in the Premier League a further 22 times so far this term.
The versatile youngster recently made his senior Republic of Ireland debut, winning the Man of the Match award to cap a remarkable campaign which has seen him perform admirably at centre-half and in midfield.
After stepping off the bench in the season opener at Manchester United, Rice has gone from strength-to-strength, playing some part in all but one of the Hammers' top-flight games in 2018 and earning praise from his fellow players and fans alike.
I'm loving every minute of it and I can't wait to play more games and win more trophies in the future

Declan Rice
"There were other great candidates who have had great years, so I'm very grateful that I've done enough to win this award for a second straight year," he said. "It's been a great year and I can't wait to end it strongly.
"It's been an amazing year. I was picking up this award last year and I was talking about loan options, but now I've made 30-odd appearances, have had some praise from some top, top people and I'm loving every minute of it and I can't wait to play more games and win more trophies in the future."
Rice has played in huge games this season, including the 3-2 EFL Cup win over Tottenham Hotspur at Wembley and the recent 1-1 Premier League draw at his boyhood club Chelsea, but it was another match which he picked as his standout moment of 2017/18 so far.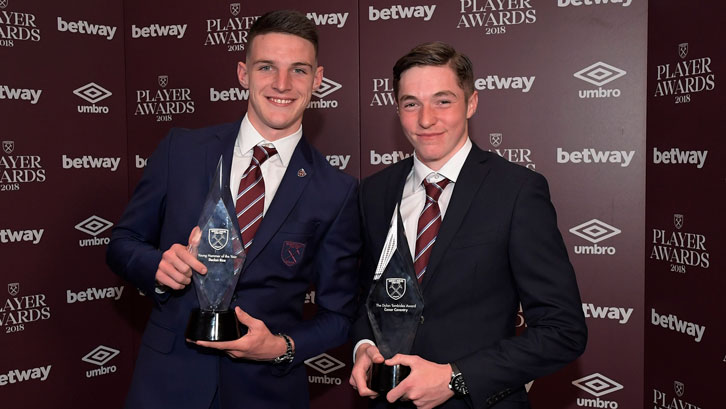 "It was the game against Southampton which we won 3-0. There was so much pressure in that game, as we'd come back after three weeks and we won 3-0.
"For the manager to put me in and trust me and for us to get a clean sheet and win, that was my proudest and best moment of the season."
Rice expressed his gratitude for the support and mentoring he has received this standout season, from his old Academy coaches, the first-team staff and teammates alike.
"You've only got to go into the Academy to see how much work is going. There are so many top people there working and they are bringing top players through and the U23s are beating Manchester City and Manchester United, which shows how well we're doing.
"Credit to Terry Westley and his staff – Liam Manning, Steve Potts and Mark Phillips – for giving players their opportunities and making them better. A massive thank you to all them for getting me to this point.
"All of my teammates have been there for me. I've been lucky to come through with this group of lads, who have all been in my position, the likes of Joe Hart and Marko Arnautovic, who are like older brothers to me, and Nobes, Ginge and Andy Carroll.
"That's the thing about this squad. We're all so close that anyone can go to anyone and it's great to be part of this squad."